Gary Barta explains Oklahoma staying at No. 8 despite record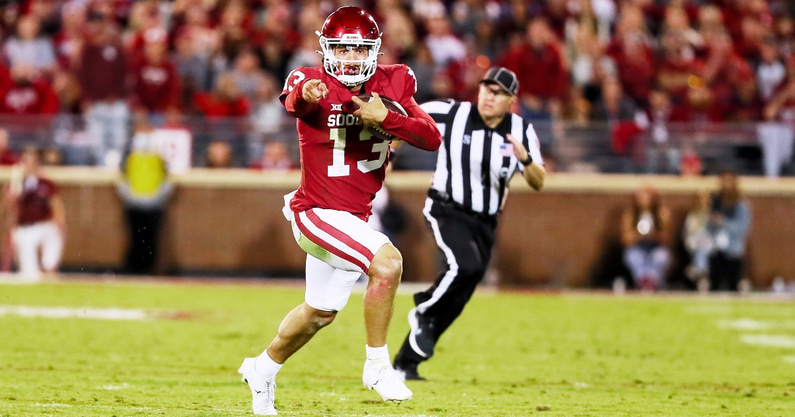 The Oklahoma Sooners stayed at No. 8 in this week's CFP rankings. The Sooners had a Week 10 bye but that's not all that went into the committee's decision to keep them outside the top six.
Following the release of the latest version of the CFP rankings, committee chairman and Iowa athletic director Gary Barta commented on Oklahoma's place.
"If you look at it, they are 9-0 and that's why they're ranked eighth in the country and not somewhere else," Barta said. "But they don't have any signature wins. Their best wins are against Kansas and Texas Tech."
The Sooners came from behind to take down a bad Kansas team in Week 8 before destroying Texas Tech 52-21 in Week 9. However, their resume looks hollow compared to the competition. A win over No. 13 Baylor this weekend could make a big difference. The Sooners must also fend off No. 10 Oklahoma State to end the year.
Also factoring into the future rankings will be the play of Caleb Williams. The freshman quarterback posted three games with a 75% or better completion rate and is now in the conversation for the Davey O'Brien award.
"I mentioned last week, the committee noted … that the quarterback change to Caleb Williams has changed that team," Barta said. "They were off this past week, but just looking to see if that continues, because I do think that made a difference. The committee thinks that made a difference.
"But there just hasn't been a signature win yet. If you compare them to Michigan State, for example, Michigan State beat Michigan. If you look at Notre Dame, they've beaten Wisconsin, they've beaten Purdue, so they're sandwiched in between."
Georgia leads CFP rankings in Week 11
The undefeated Georgia Bulldogs claim the top spot, again making them unanimous across the AP poll, coaches' poll and CFP rankings. Georgia's dominance appears one thing all analysts can agree on this season, leaving little doubt on top of any rankings. With SEC and Big Ten races heating up, there is plenty of room for movement in the next three weeks.
The remainder of the group is in flux after a series of upsets and lackluster wins. Debates over Oklahoma's unconvincing undefeated record, Michigan State's first loss and their place against Michigan dominated headlines across several weeks. As the final authority, the CFP Selection Committee issued their official ruling on all debates.
Georgia, Alabama, Oregon and Ohio State make up the top-four, with Cincinnati, Michigan and Michigan State on the outside looking in. Undefeated Oklahoma (No. 8) and UTSA (No. 23) remain outside the CFP bubble after Week 10.