Lincoln Riley: Spencer Rattler 'needs to play better'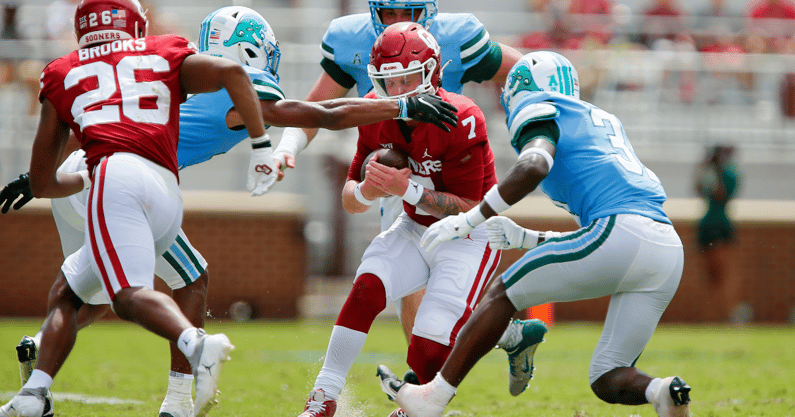 Oklahoma coach Lincoln Riley was careful with his words, but it was clear he wanted more out of Spencer Rattler in the season opener. The Sooners held off a second half comeback effort from Tulane to win 40-35 on Saturday in Norman.
After the game, the Sooners coach offered his thoughts on the Heisman hopeful quarterback's performance.
"I thought decision-making overall was pretty strong," Riley said. "He had a couple of bad decisions, but not a ton. I though his decision-making was pretty sharp. Other than that, he missed a couple of throws. Not only that, but he missed them in places that you can't. So, he was OK. He can play better. There's things I need to do to prepare him better and the group around him. He had his moments where he was really, really good and gave us a lot of chances. He was excellent at times, but there's certainly a few where he needs to play better and get coached better from here on out."
Rattler finished 30-of-39 passing for 304 yards and a touchdown. However, he also threw two interceptions. The Sooners led 37-14 at halftime but managed only a field goal in the second half.
Rattler's first interception came on just his second pass of the game. The other came in the fourth quarter and resulted in a Green Wave touchdown on the ensuing offensive drive.
Rattler entered the year at the top of nearly every Heisman Trophy watch list. He finished with 3,031 yards passing, 28 touchdowns and seven interceptions last year on a 67.5% completion rate.
After a 1-2 start this past season, the Sooners won their final eight games of the season. The victory against Tulane on Saturday pushes their win streak to double digits.
Orginally scheduled to be played in New Orleans, the game was moved to Norman after Hurricane Ida made landfall in Louisiana. Although the location changed, the game was still officially a home matchup for the Green Wave. Oklahoma even painted the field with Tulane logos.
It's hard not to wonder whether this game would have turned out differently in New Orleans. But it's clear the Sooners have a lot more work to do if they hope to live up to preseason expectations.
According to Lincoln Riley, that includes Spencer Rattler.