Oklahoma, Brent Venables make big hire out of Clemson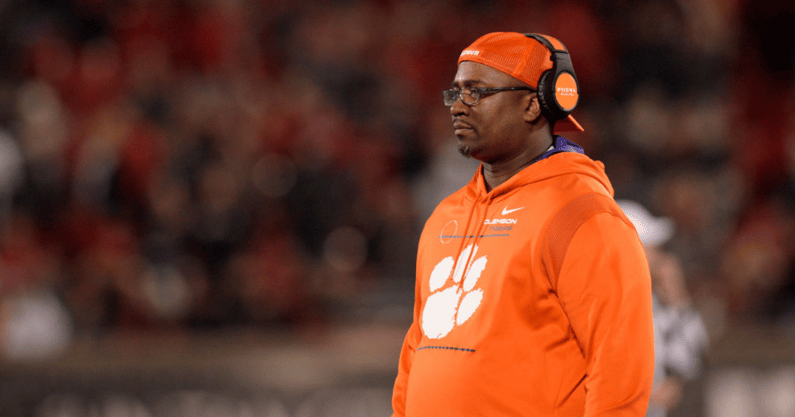 Oklahoma and new head coach Brent Venables just dealt a huge blow to the Clemson coaching staff. Venables has hired Tigers defensive tackles coach Todd Bates for the same position in Norman, according to Tigers Illustrated's Larry Williams. Bates also served as Clemson's recruiting coordinator and as Dabo Swinney's assistant head coach.
Todd Bates joined the Clemson staff as defensive line coach in January 2017. He helped the Tigers clinch the national title in 2018 and reach the big game once again in 2019. He added recruiting coordinator to his title after earning Rivals' national recruiter of the year award in 2019.
Bates came to Clemson after spending three years at Jackson State. They went 33-6 in three seasons (2014-16). The Gamecocks reached the FCS National Championship Game in 2015 and compiled a perfect 23-0 mark in the Ohio Valley Conference with three titles in his time there.
The new Oklahoma defensive line coach was a defensive end himself at the University of Alabama. After earning a captainship for the Crimson Tide, he went on to play in the NFL for the Titans in 2005 and 2006.
After the NFL, Bates began coaching in the high school ranks. He started at Talladega (Ala.) High School in 2007, then served at Oxford (Ala.) High School from 2008-11.
Stoops passes on Oklahoma visor to Brent Venables
After a 47-32 victory over Oregon in the Alamo Bowl, the Brent Venables era is officially underway for Oklahoma football.
Interim head coach and former national title-winning head coach Bob Stoops notched a victory in his only game back with the team, and then he ceremoniously "passed the visor" to signify a changing of the guard in Norman.
After calling Venables up to the stage during the trophy ceremony of the bowl — an action which was met with raucous applause from the crowd — Stoops offered an rosy opinion on where the Sooners program is headed.
"Soonerland isn't going anywhere, we're actually gonna keep climbing," Stoops said. "I promise you."
Stoops would know, as he was Venables' boss at Oklahoma from 1999-2011. The former Clemson defensive coordinator began as a co-defensive coordinator at Oklahoma in 1999 (Stoops' first season) and took over the entire defense in 2004. He was also Venables' defensive coordinator while he played at Kansas State.
"They're getting a guy with passion, a guy who loves the game, a guy that loves his players, and a winner," Stoops added. "A winner, a champion guy."
Oklahoma thrived under Venables' guidance in his first stint in Norman. The Sooners had the best scoring defense in the Big 12 in 2004, 2006 and 2011. Outside of 2005, they were never worse than third in the conference. 
On3's Ashton Pollard contributed to this report.