LOOK: Oklahoma paints field to represent Tulane home turf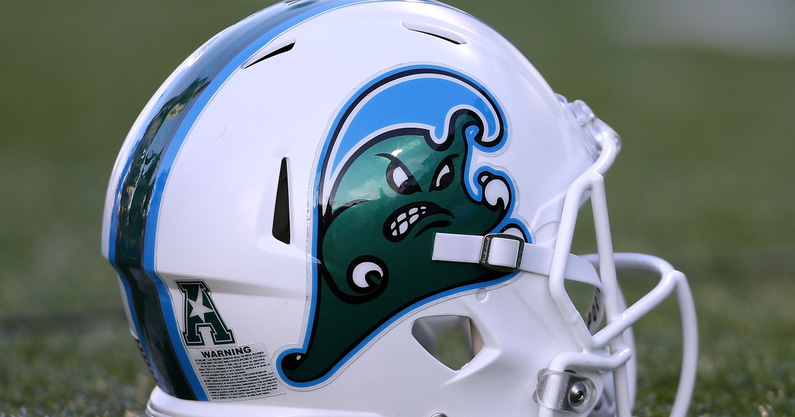 Oklahoma's week one matchup against Tulane has already been drastically impacted by the effects of Hurricane Ida. The game was originally set to be played in New Orleans on Saturday. It has since been relocated to Norman, Oklahoma. Tulane will still serve as the designated home team despite the game being played on Oklahoma's home turf. The Green Wave will see familiar logos when they take the field on Saturday. Oklahoma Football tweeted pictures on Friday of Tulane's logos being painted on the field.
This is one of many classy gestures by Oklahoma
Tulane will be the home team and have its own logos on the field on Saturday. They will also be retaining all net proceeds from ticket sales for the game.
"In this extraordinarily difficult moment for the people of Louisiana, we want to do our small part by assisting Tulane with the game this weekend," Oklahoma President Joseph Harroz Jr. said when announcing that Tulane will retain proceeds. "While we regret that it's necessary for us to host it, we will welcome the Tulane family this Saturday with open arms and heavy hearts. We hope this act is one small way that we can help alleviate some of the stress the university is currently enduring.
"Our thoughts and prayers will continue to be with all those impacted and those helping with the relief and recovery in the coming weeks and months."
Hurricane Ida made landfall in New Orleans exactly 16 years following Hurricane Katrina's arrival in 2005. It has wreaked havoc on the collegiate and professional world of sports already.
The game between Oklahoma and Tulane will still begin at noon ET on Saturday.
"In light of the catastrophic damage sustained by the City of New Orleans and, after consulting with our emergency preparedness and response teams at the institutional, local and state levels, we will relocate our Sept. 4 football game against the University of Oklahoma to Norman, Oklahoma," Tulane athletic director Troy Dannen said in a statement. "While game time will remain 11:00 AM, television information and other game-specific details will be announced by the University of Oklahoma. We appreciate the understanding, support and communication with the University of Oklahoma, especially Director of Athletics Joe Castiglione."
Tulane finished last season at 6-6. Oklahoma is currently the No. 2 team in all of college football.