Oklahoma unveils uniform combination for Kansas State game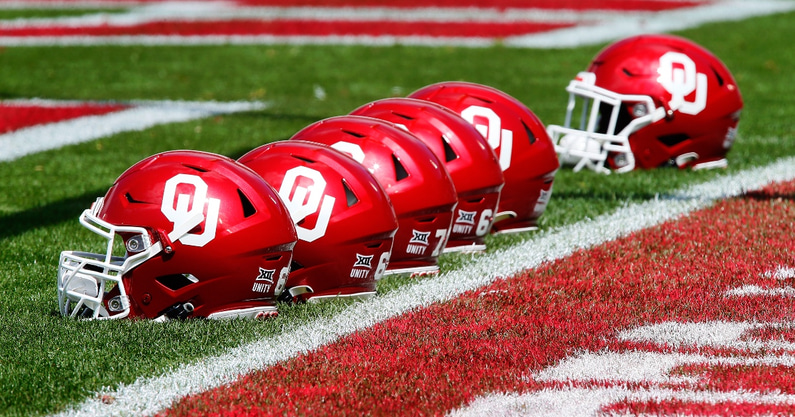 When Oklahoma takes the field against Kansas State on Saturday, they will don all-white uniforms with the timeless red and white helmets.
On Friday, the team released a video and a collection of pictures featuring defensive lineman Perrion Winfrey showing off the combination for Saturday's 2:30 p.m. CT game in Manhattan.
Additionally, Winfrey added a special, personal touch to his garb for this weekend, which is fitting given it is the first weekend of October. If you look closely, you will see Winfrey is wearing unconventional thigh pads featuring the faces of horror movie characters Michael Myers of "Halloween" and Jason Voorhees of "Friday the 13th."
Customized thigh pads became a trend almost 10 years ago when Kentucky players wore the TredCal-made pads against Mississippi State. Slowly, the trend spread across college football and into the NFL. Now, over 600 professional players, including half of the players in last year's Super Bowl, wore custom thigh pads. 
Approximately a dozen Oklahoma players have personalized TredCal thigh pads. Winfrey wore ones with a balloon from "It" and the ghost mask from "Scream" with his uniform last week.
"Perrion wears some of the coolest ones we've done," said Brian Gudalis, owner of TredCal. "And they make him look even meaner than he is on the football field.
Wildcats have had Sooners' number in recent years
The Sooners will need to instill a little extra fear in the Wildcats this weekend, as they have struggled mightily handling their conference foe in recent years. Kansas State has beaten Oklahoma two years in a row for the first time since a five-game win streak from 1993-1997. Oklahoma has a big advantage in the series all time, holding a 76-21-4 lead. The Sooners are an 11 ½ -point favorite.
This weekend's game will feature a struggling Oklahoma offense that posted just 16 points last weekend against West Virginia, the lowest point total in head coach Lincoln Riley's time in Norman.
After an unimpressive first performance against Tulane in which the Sooners defense nearly gave up a huge lead, they have settled down, allowing just 16 points to Nebraska and 13 points to West Virginia in the last two weeks. Oklahoma leads the Big 12 with 14 sacks, including 3 ½ by Winfrey.