Patty Gasso previews what makes Clemson dangerous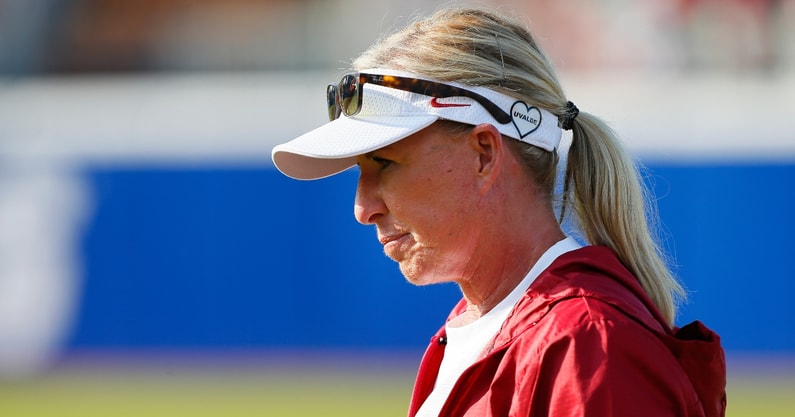 The Oklahoma Sooners' women's softball team has been terrifyingly good this season. They recently extended their win streak to 46 games. They are just one game shy of 47 consecutive wins, the record set by the Arizona Wildcats in 1996-1997. While they've been dominant, they'll have a stiff test ahead of them in the Super Regionals of the NCAA Tournament, where they'll face the No. 16 Clemson Tigers. Recently, Sooners' head softball coach Patty Gasso discussed what makes the Tigers so dangerous.
"Well, [Valerie] Cagle is the name everybody knows and she is that. She is legit. She is a big-time two-way player, pitcher, hitter. They've got speed. They've got a good balance of speed, power. They're very athletic. They've got a very, very good pitching staff. Much like ours. They have different looks they can bring at you anytime. They have a very good fielding average. This is going to be a battle of two teams that look very similar. They might have a little more speed. It's just ya know, here and there, we could look different than each other but very, very similar," Gasso said.
A two-way standout, Valerie Cagle is 25-6 with a 1.20 ERA on the mound. At the plate, she's batting .467 with 19 home runs and 57 RBIs.
The Tigers have quickly established themselves as contenders under head coach John Rittman. In just its third full season as a program, Clemson has made the NCAA Tournament for the third time and advanced to the Super Regionals for a second consecutive year.
Patty Gasso heaped praise on the Clemson program
Gasso has never been to Clemson, but she has followed the program from a distance and has been impressed by what she has seen.
"The field looks amazing, the stadium, the fans have come out in droves," Gasso said. "[Coach Rittman's] done a phenomenal job of building that program and [Clemson] will continue to be a team that is in contention for a national championship."
The Tigers enter the Super Regional with a 49-10 overall record after beating Auburn in the championship game of the Clemson Regional.
It has been another impressive season for John Rittman, who previously was in charge of the Stanford program, before taking over at Clemson. Rittman has always worked with USA Softball.
The Tigers have recruited well under Rittman and are two wins away from their first World Series in program history. Beating Oklahoma in the supers will be a tall task, though, as the Sooners are 54-1 on the year.
Even with their impressive record, Gasso expects a tough series.
"I've known John Rittman for a long time. We've competed against each other when he was back at Stanford. So, he is just a really good coach," Gasso said. "Creates a good environment. Goes after the right players. Coaches the right way. I'm not surprised."
On3's Matt Connolly also contributed to this article.