On3 Roundtable: 'I don't know that Quinn Ewers faces Oklahoma' in Red River Rivalry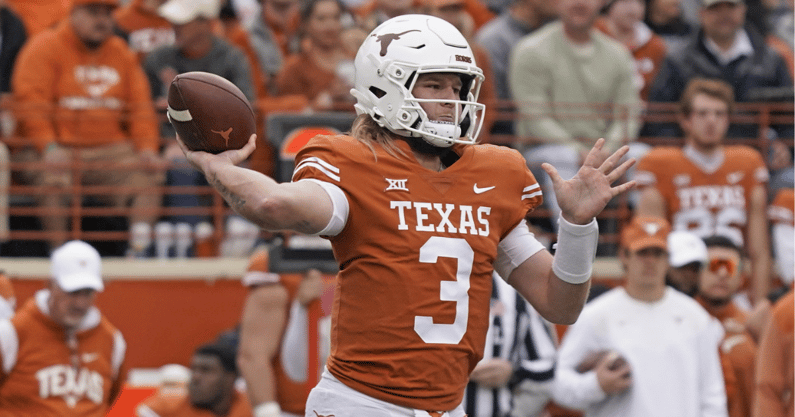 Quinn Ewers struggled at times for Texas last year but he put together a complete performance against Oklahoma. Ewers had been out for the previous four games but returned in time to make his Red River Showdown debut at the Cotton Bowl. He finished with 289 yards, four touchdowns, and a completion percentage of 67.7%.
If Oklahoma is going to have success against Texas in Dallas this season, head coach Brent Venables will have to dial a few things up. Sooner Scoop's Carey Murdock joined the On3 Roundtable, saying Venables will dial up a few blitzes against Ewers, attempting to make him uncomfortable in the pocket.
"I mean, it's Brent Venables," Murdock said. "He's going to try to heat up a quarterback. That's no secret there. He's going to send blitzes upon blitzes upon blitzes and from all different directions. I think that's what the game plan is."
But Murdock says all of that while asking if Ewers is going to be the starting quarterback come Oct. 7. The backups attracted plenty of attention in Austin this offseason but one more than another. Texas' spring game may have quieted the noise a bit but when you have a name such as Arch Manning, it's never fully going to go away.
"My question is — will there be a quarterback controversy? Will there be pressure on him to play well? Because of one young Mr. Five-star on the bench," Murdock said. "If he doesn't play well to start the season, I don't know that Oklahoma faces Quinn Ewers in that game."
The Texas-Oklahoma rivalry does have a history of a five-star quarterback entering and making a significant impact. When Spencer Rattler struggled during the 2021 Red River Showdown, Caleb Williams famously led an amazing comeback under Lincoln Riley. The Sooners nearly walked it off with a Kennedy Brooks touchdown in the final seconds.
Murdock is suggesting a different scenario though, saying Manning may have taken over by the time Texas and Oklahoma meet on the field. He would have to get through Maalik Murphy as well, making a quick in-season rise on the depth chart.
There will be pressure on Venables and Steve Sarkisian to perform this season. After all, it's the final contest between the two in the Big 12 before heading off to the SEC.
Quarterback will be a point of contention for both programs and possibly be a midseason storyline for those south of the Red River.