The competition level led 4-star cornerback Jasiah Wagoner to Oklahoma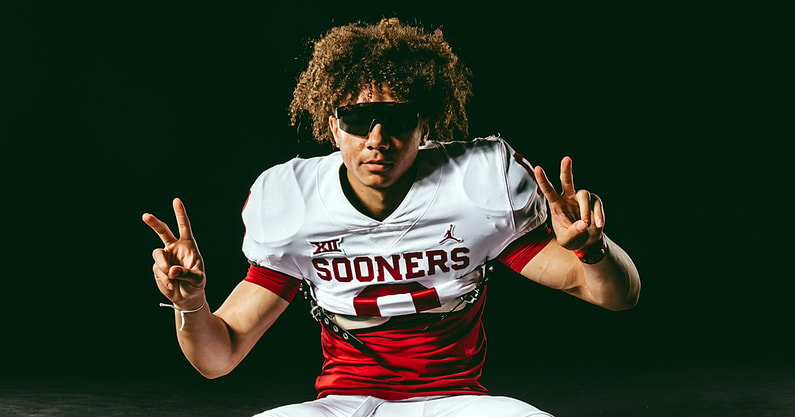 Jasiah Wagoner cut his list to California, Oklahoma, Oregon, and Texas in June. Last week, the No. No. 212 prospect in the On3 Consensus announced he would honor his father's birthday on July 25 with a commitment and he has done just that.
The four-star out of Spanaway (Wash.) Spanaway Lake has committed to Oklahoma. California was also in the mix late, but the 5-foot-10, 170-pound cornerback wants to be a Sooner.
"I did go back and forth between Oklahoma and California, but I wanted to go to a place that made me a little uncomfortable initially to help me grow and adapt to new things," Wagoner told On3. "I know a lot of people at California and I have some strong relationships there, but I felt best about Oklahoma."
It being away from home, in a different part of the country, and somewhere he will have to adapt to, played a role in this decision.
"It will be different at Oklahoma. I know I will be challenged. It will help me grow as a person around great people and that factored into this.
"I have grown close to coach Venables, coach Valai, and coach Brewer. They have made me feel comfortable with them and although it will take some time to get used to it, I am excited about the future there."
The competition helped the Sooners win out for Wagoner
Wagoner is not looking for the easiest path to the field when he gets to college. He knows it will take work and dedication. The No. 2 prospect in Washington chose Oklahoma because he knows they will recruit at a high level.
"What made Oklahoma the right school, in the end, was the competition there," Wagoner there. "I love the level they play at, the level the players there compete at, and it will be a different level that will challenge me.
"The competition will push me and make me better. That is what I was looking for. Relationships and other things were important too, but as a player, I want to get better, and the competition at Oklahoma will push me."
He trusts Jay Valai to teach, develop, and put him in position to compete when he gets to Norman.
"Coach Valai's style of coaching is intense, but technical too. He is really about football. Coach Valai is about details and coaching hard. He is always focused, he is about the little things, like footwork, and I really like his coaching style for me.
"We have a good relationship and I believe in him as a coach."
Wagoner believes in Brent Venables
Oklahoma head coach Brent Venables is known for intensity, his defenses, and his high energy from the sidelines. Recruits have always spoken highly of Venables off the field and Wagoner is no different.
"Coach Venables was a real factor for me," Wagoner said. "His resume speaks for itself as a coach, but he is more than that. Coach Venables is different.
"He is one of the best head coaches I have ever met with. He is a man of God. Coach Venables cares about his players. He knows about development. Every time we spoke, he kept it real with me.
"We talked about how it will be different in college, how it will take time to adapt, and he is going to push me and help me be the best I can be."
Wagoner feels Venables will make Oklahoma the best it can be as a team as well.
"Coach Venables's style of coaching, his vision, and his coaching staff will take Oklahoma to the top. I believe that."