WATCH: Oklahoma takes lead on incredible 4Q sequence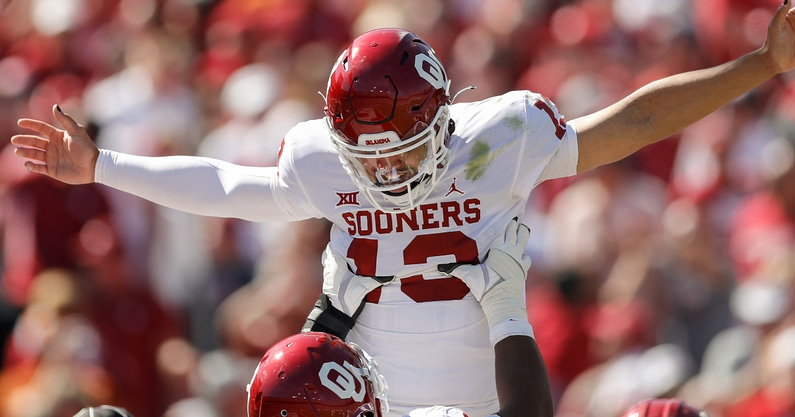 Caleb Williams launched a prayer, and Marvin Mims answered it in the most spectacular fashion possible. The Oklahoma Sooners have come all the way back against the Texas Longhorns, and an unreal touchdown catch by Mims is the reason why.
On 3rd-and-19, Williams gave his wide receiver a shot. Somehow, Mims contorted his body in a way where he could actually catch the football, stayed in bounds and found the end zone in one move.
The amazing 52-yard touchdown brought Oklahoma within two. Then, Lincoln Riley brought Spencer Rattler back into the game.
On the two-point conversion, Rattler found Drake Stoops for the successful attempt to tie it up at 41-41.
Then, on the ensuing kickoff, Oklahoma kept their momentum by forcing a fumble and recovering it. On the next play, Kennedy Brooks galloped his way to an 18-yard touchdown — giving the Sooners a 48-41 lead.
Williams is becoming a folk hero in real time, and the Red River Rivalry is in the midst of a legendary edition. Now, who can etch their name in history and win the game?
Caleb Williams replaces Spencer Rattler
Sideline reporter Holly Rowe said that Oklahoma head coach Lincoln Riley made the quarterback switch due to "turnover related" issues. Rattler did not look his best in the first half, leading to Williams coming in a couple of times late in the half. Texas led Oklahoma 38-20 at halftime.
Rattler came into the year as a leading contender to take home the Heisman. He had thrown for 1,260 yards, ten touchdowns, and four interceptions entering Saturday's game. Williams has played sparingly so far on the year. Entering Saturday, he had completed six of 11 passes for 102 yards, adding 61 rushing yards and a score on five carries.
Some Oklahoma fans have wanted to see Williams to replace Rattler
Two weeks ago against West Virginia, Oklahoma barely survived with a game winning field goal to win 16-13 at the last second. During the game, Rattler was underwhelming at times, leading to Oklahoma fans beginning "We want Caleb" chants across the stadium after an interception.
After that incident, Rattler said that he didn't pay attention when Oklahoma fans chanted for Williams.
"I don't worry about that at all," Rattler told ESPN's Holly Rowe. "I don't listen to it. They're not on the field."
Lincoln Riley defended Rattler after those chants, saying that he was going to turn it around.
""You know you evaluate the whole game and thought there were a couple of things he missed, but I thought several things we didn't play good around him. I was proud of him. I thought he hung in there and trusted it the whole way, gave us a chance right there at the end. He's going to get better. He's going to get coached better," Riley said.
While Rattler had massive expectations entering the year for Oklahoma, Williams was the consensus No. 1 quarterback in the country in the 2021 class and was a consensus five-star prospect. In his junior year of high school, Williams threw for 1,770 yards and 19 touchdowns, adding 838 yards and 18 scores on the ground.