Oklahoma State defensive end Trace Ford out for the season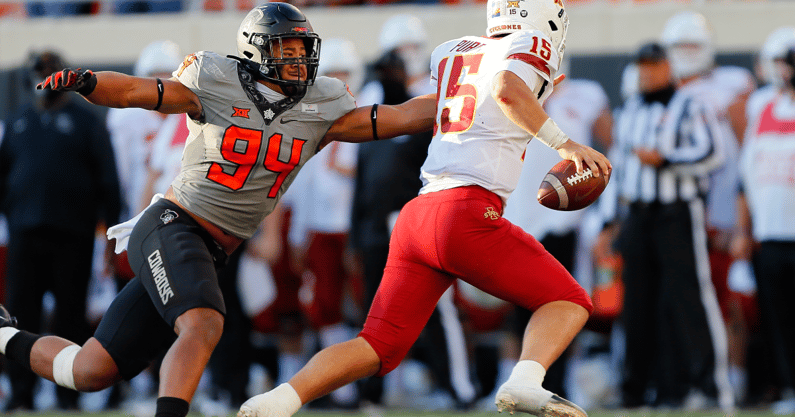 Oklahoma State defensive end Trace Ford is out for the season, according to the Oklahoman's Jacob Unruh. Ford suffered a torn anterior cruciate ligament during practice this past week and did not play Saturday against Missouri State.
Cowboys coach Mike Gundy told reporters following OSU's narrow 23-16 victory that Ford "won't be back for awhile." Ford suffered a torn ACL this past December and missed spring practice. He was limited during fall camp.
The injury is to his other knee this time, according to the report.
Losing Ford is a big blow to the Cowboys defensive front. He was the Cowboys' leading returner in sacks with 4.5 last year. Brock Martin started in place of Ford on Saturday and finished with five tackles, 0.5 sacks and two quarterback hurries.
Without Ford, the Cowboys surrendered 334 yards and gave up 22 first downs. A junior, Ford has been with the program since 2019. He will likely use this season as a medical redshirt and still have two years of eligibility remaining.
Oklahoma State quarterback Spencer Sanders also did not play due to COVID-19 protocols. Shane Illingworth started in his place and finished 22-of-40 passing for 315 yards and a touchdown.
Other Cowboys who missed include defensive tackles Collin Clay and Israel Antwine, offensive guard Hunter Woodard, safety Thomas Harper, tight end Logan Carter, receivers Blaine Green, John Paul Richardson and Langston Anderson.
Gundy said some were also in COVID-19 protocols, while others were injured. Anderson suffered an injury during pregame.
Gundy said Clay, Green and Carter would also be out for a while.
Oklahoma State next takes the field at 11 a.m. CST on Saturday against Tulsa in Stillwater. With Trace Ford out for the season, the Cowboys will look for others to step up. Once Antwine returns, the Cowboys gain one of their starters back. He will join Brandon Evers and Tyler Lacy to form an experienced defensive line.