Sam Pittman praises Matt Corral for performance vs Arkansas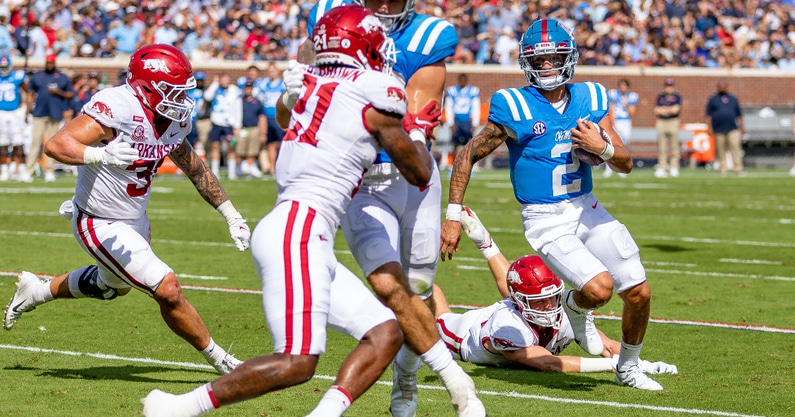 Arkansas head coach Sam Pittman was quick to praise Ole Miss quarterback Matt Corral after the Razorbacks lost 52-51 in an exciting shootout between to two rising SEC programs.
"Thought he played great," Pittman said after the loss. "Thought he played great. No turnovers. When they got a little behind us, his throws were on the money. He's a competitor. We couldn't get him on the ground. Anytime that we had an opportunity one-on-one to tackle him, we couldn't. We knew we'd probably get a really good effort from him, A) because we've seen that on film and B) because the situation last year, when he threw a lot of picks. But he's a competitor, he's a really, really good football player."
Last season, in a 33-20 loss, Corral threw for just 200 yards as well as six interceptions. It was a much different story this year, as the redshirt junior was firing on all cylinders against Arkansas, shredding the defense for 287 passing yards, 97 rushing yards and four total touchdowns. Corral completed over 66% of his passes and was not sacked once by an Arkansas front that wreaked havoc on the likes of Texas and Texas A&M. Ole Miss' offense, which struggled against Alabama excelled on the ground and through air, combining for 611 total yards.
Matt Corral's Heisman campaign took a slight hit after the Rebels' loss to Alabama. Corral was efficient, and relatively mistake-free, but the loss, against a fellow Heisman candidate in Bryce Young, hurt his chances, at least temporarily.
On the season, Matt Corral has thrown for 1,497 yards and 12 touchdowns, along with 255 rushing yards and eight touchdowns on the ground. In his second year in head coach Lane Kiffin and offensive coordinator Jeff Lebby's system, Corral has emerged as a potential top quarterback prospect in the 2022 NFL Draft.
Saturday's performance against Ole Miss was a step out of character for Arkansas' defense, who entered the game as one of the best in the SEC. If not for an equally embarrassing performance from the Ole Miss defense, it could have been a very different game. 
Pittman addressed the defensive struggles, citing tackling as a major issue.
"A bunch of it was, in early time we didn't tackle," he said. "Any open-field tackle, we couldn't get a guy on the ground. That includes (quarterback Matt) Corral. That was by far our poorest day tackling. We had some busts in the secondary and guys were wide open. We couldn't fill the gap in the safety area on a simple little stretch play. I'm not positive why. I thought we had a really good, physical week of practice. The bottom line is we had too many mistakes defensively and we couldn't tackle.