College football insider compares Lane Kiffin and Bruce Pearl as personalities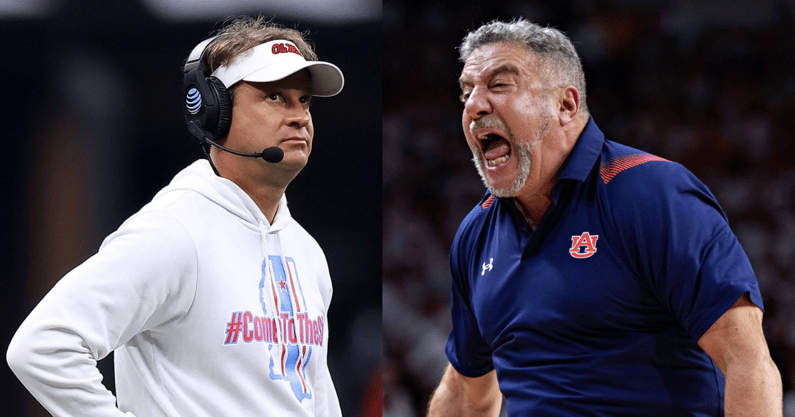 Since his first head coaching job at Tennessee, Lane Kiffin has been one of the more recognizable personalities in college football. A transition has occurred over the last decade, though. While he maintains a quippy presence on social media, Kiffin has since been tabbed as a quieter presence these days.
On Friday's episode of the Paul Finebaum show, USA Today Columnist Blake Toppmeyer said Kiffin's personality, although he doesn't often show it now, closely resembles Auburn basketball's Bruce Pearl.
"Let's use Tennessee fans as an example who experienced Lane in his younger days as well as Bruce Pearl. To some extent, you would lump Kiffin and Pearl together in terms of personality. In reality, I think that that really couldn't be further from the truth," said Toppmeyer. "Bruce is the extrovert whereas Lane really is kind of like a low key introvert."
Kiffin has remained one of the best coaches in the conference even with this about face in his disposition. He arrived at Ole Miss in 2019 and just finished his second season where the Rebels went 10-3. As one of the biggest names in the conference, Toppmeyer says Kiffin has actually shifted into a leadership role in the SEC.
"I think he's a cerebral guy. In some ways he's an understated guy. (Kiffin) is certainly a mature person now more than he was more than a decade ago when he arrived in the SEC," he said. "Interestingly, within the last year or two, I think Lane has emerged as a voice of reason out of the SEC which is fascinating. If you would have said that 10 years ago, I don't know that anyone would have believed that. I really think he's positioned himself that way."
While the change in behavior has come in real life, the personality still shines on social media. That's especially true on Twitter where Kiffin is shameless in sharing his thoughts on different subjects. Still, Toppmeyer says to not let Twitter fool you about who the real Kiffin is today.
"He's not really in person what you see on Twitter. For all the quips and funny stuff, a lot of that's like a couple words and an emoji," said Toppmeyer. "In person, this is someone who's very cerebral, very rational, and, at times, very low key and introverted."