College football insider reveals Lane Kiffin refusing to brag about transfer portal wins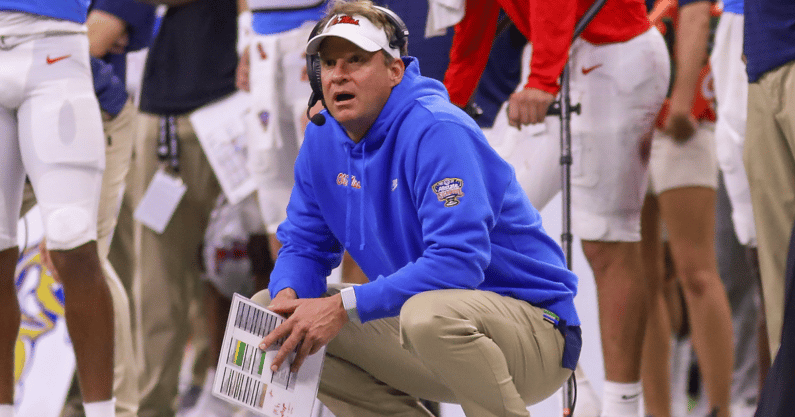 Ole Miss football coach Lane Kiffin made quite the splash in the transfer portal this offseason. The Rebels brought in seven of the top 50 players in On3's Transfer Portal Rankings, more than the likes of even USC and Texas.
In spite of this, Kiffin has refrained from boasting about his transfer portal success. Instead, the coach told USA Today's Blake Toppmeyer that he has concerns about building team chemistry with so many new faces.
"I asked Lane down in Destin about his 'Portal King' strategy and it's interesting because it gave Lane a chance — if he wanted to — to sort of puff out his chest about all these transfers he piled up," Toppmeyer said on the Paul Finebaum Show this past week. "In fact, he went a little bit the other way and said, 'On paper everything looks good, but there's a reality in the locker room and culture and how all these transfers affect your chemistry that isn't factored in the transfer portal ranking.' This is coming from a guy who's raided the portal about as much as anyone."
Lane Kiffin had to replace starting quarterback Matt Corral this offseason and went to the transfer portal to do it. He added former USC quarterback Jaxson Dart, the No. 4 transfer quarterback according to On3, as his replacement. Other big additions included TCU running back Zach Evans and Central Michigan linebacker Troy Brown.
For Toppmeyer, chemistry is not the main concern, so long as the Rebels address their needs. They certainly did that through their portal additions, but there are still some questions entering 2022. For example, Dart isn't guaranteed the starting quarterback job and must first beat out returning sophomore Luke Altmeyer.
"I think team chemistry is important, but did Georgia win the national championship because of its chemistry or because it had 15 NFL draft picks?" Toppmeyer asked. "I think talent is the most important thing and Ole Miss has done very well at improving its talent and addressing some departures off of last year's Sugar Bowl team.
"The lingering questions I have with Ole Miss is not chemistry, it's how do they replace Matt Corral at quarterback? We didn't come out of the spring with an obvious choice at quarterback. Then two, I think they're also a little bit suspect at linebacker particularly with the departure of Chance Campbell. So I more look at things from a positional standpoint whereas Lane is wondering how all these transfers are going to affect chemistry, which is probably fair for him to wonder about. But I think at the end of the day he's gonna be glad he added all this talent."
Kiffin is coming off of a 10-3 record in his second season with the Rebels and will look to maintain status as one of the SEC's premier teams going forward. If he is going to do that, he knows the transfer portal will play a big part.
Ole Miss will open the 2022 season on Sept. 3 against the Troy Trojans.