David Pollack on why he believes Lane Kiffin leaves, becomes Auburn's next head coach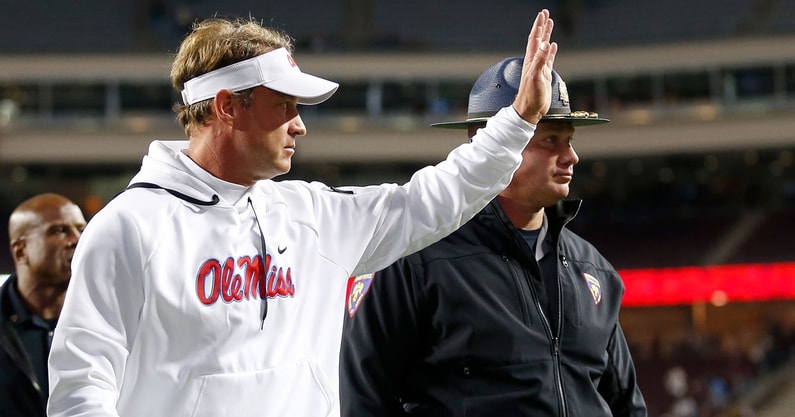 With the Egg Bowl fast approaching on Thanksgiving Day, all eyes are on the major storyline off the field. Will Lane Kiffin leave for the Auburn job?
Kiffin has already spent a lot of time this week swatting down rumors of an impending departure on Twitter, and he held a meeting with his players Tuesday to make sure they remain focused for the in-state showdown with Mississippi State.
But he hasn't firmly denied anything just yet, something ESPN analyst David Pollack was quick to point out on an appearance on The Dan Patrick Show. Pollack expects Kiffin to take the Auburn job, despite his Monday Twitter antics.
"I think he's going to. I think he's going to, I do," Pollack said. "I think he's going to. But I think what he said specifically was I haven't taken the Auburn job yet. I'm not going to step down and take the Auburn job. I don't know that he said I'm not taking the Auburn job period, I'm not in the mix."
Pollack also made it clear he thinks Auburn could do a whole lot worse than Kiffin.
"I think for Auburn it would be a really good hire," Pollack said. "Auburn did something last time, they went outside of the league and got Bryan Harsin. I don't think Auburn's doing that again. Like Auburn's not going to go outside of the league and have the growing pains and then the boosters be upset."
Will Lane Kiffin leave?
Should Lane Kiffin leave for Auburn it wouldn't be the first time an Ole Miss coach has made that move. Tommy Tuberville did the same back in 1998, with similar seeming denials.
And while the schedule and the opponents wouldn't change a whole lot moving from Ole Miss to Auburn, the resources would.
That's the selling point if the Tigers can lure Kiffin away successfully.
"It's interesting. Auburn is one of the most polarizing jobs in all of college football," Pollack said. "They've got ridiculous fans, ridiculous resources, unbelievable stadium, campus, ridiculous access to recruits. They have everything. This is the best job that's on the market and it's not close. They've won national championships with Gene Chizik, like, they've done that.
"They are a team that can win and win big if you can get the right guy. Nick Saban obviously getting a little older. Lane Kiffin, imagine the shots he'd be taking, it would be gorgeous."