Injury to Matthew Murrell sidelines Ole Miss star vs. Missouri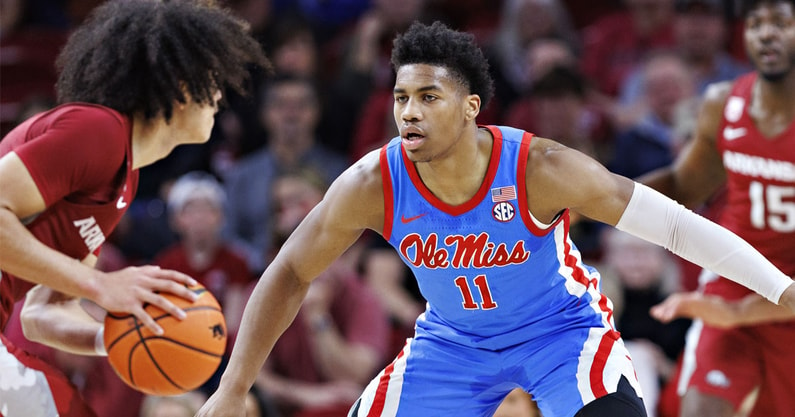 Ole Miss and Missouri are underway from the Pavilion, but the two teams are each without a key player in this contest. For Ole Miss, an injury to Matthew Murrell will rob the Rebels of their leading scorer in the contest.
The SEC Network broadcast crew revealed the injury just before the game tipped off.
"The news right off the top is significant," play-by-play commentator Mike Morgan said. "We were going to feature two of the Top 10 scorers in the SEC, but we know now Matthew Murrell will be out with a knee injury. They hope to have him back Saturday in the SEC/Big 12 Challenge against Oklahoma State. Matthew Murrell averaging almost 15 points per game."
Murrell does, in fact, lead the Rebels in scoring, having averaged 14.9 points per game this season. No other Ole Miss player has averaged double figures this season.
On top of his scoring impact, Murrell also does a lot of other things well. He averages 3.5 rebounds, 2.5 assists and 1.5 steals per game.
The Tigers are also without a player in the matchup, with Tre Gomillion sidelined. So the injury to Matthew Murrell isn't the only one impacting Tuesday night's matchup.
"They do have another injury, though, as we got late word they will be without one of their top players this season in Tre Gomillion," Morgan said. "So when we look at this matchup now it's changed a little bit."
More on Missouri vs. Ole Miss
Missouri is fresh off of a streak of playing back-to-back ranked SEC opponents, upsetting Arkansas by three points a week ago followed by an embarrassing blowout loss to Alabama where they fell to the Crimson Tide by 21 points. They currently have one of the strongest offenses in the conference, which is not only effective in scoring averaging an SEC second best 83.1 points per game, but doing so efficiently, as they lead the conference in field goal percentage shooting 47.8% from the field. The Tigers leading scorer and rebounder Kobe Brown missed the team's last game versus Alabama with an ankle injury, and has been listed as game-time decision for Tuesday's game.
Ole Miss will be looking to create a new spark at home in this one, as they recently achieved their first conference victory of the season on the road last week versus South Carolina. The Rebels haven't secured a home victory since their December 17 win over Temple.