Jaxson Dart reacts to Ole Miss adding two quarterbacks in transfer portal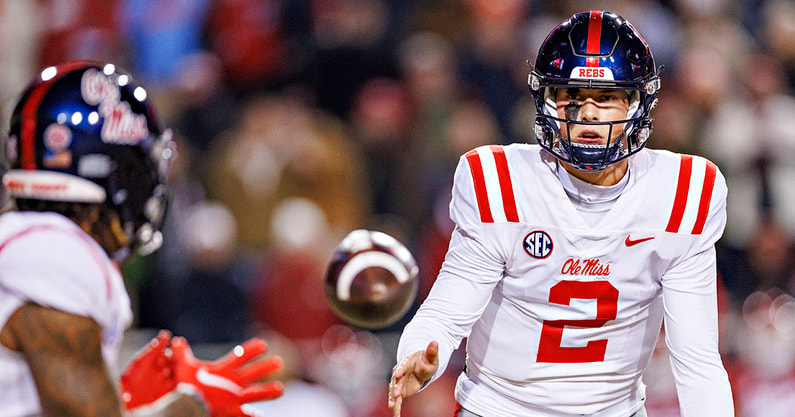 Ole Miss quarterback Jaxson Dart was one of the top transfer portal commitments of the 2022 offseason. He ranked No. 10 on On3's transfer portal rankings, which made him the fourth-best available quarterback.
His commitment was a major coup for the Rebels.
One year later, Dart has been joined in the Ole Miss quarterback room with two other highly-touted quarterbacks in Spencer Sanders and Walker Howard.
Sanders was the No. 21 player and No. 3 quarterback in On3's transfer portal rankings for this cycle. While Howard — one year removed from being a top-50 recruit in the 2022 On3 Industry Ranking — was the No. 15 quarterback in the cycle.
But Dart isn't hurt that head coach Lane Kiffin went out and got two big-time quarterbacks. He understood that they needed some more men in the room.
"Obviously I knew that we needed quarterbacks," Dart said during a press conference Tuesday. "I was the only scholarship quarterback on staff. Usually you like to have three or four. I just think how things just shook out, it just ended up being those two and but I was fully aware that we had to have some depth. I was aware that we were going to take two."
Jaxson Dart already showing improvements, Lane Kiffin says
Jaxson Dart had a very good first year in Oxford, Miss. He completed finishing the year with 2,974 passing yards and 20 touchdowns against 11 interceptions.
Ole Miss opened the year with seven straight wins before dropping five of its final six games of the season.
Lane Kiffin said Dart has already improved in the few months since the season finished.
"I think it's been great for him," Kiffin said. "I think that it's natural for us not to, you know, want competition around and certainly understand that but I think it's been really good for him. He's looked great, which is strange to say for returning a starter, he's probably one of our most improved players out there. And he looks better physically, mentally, everything so we've been very excited about him so far."
Sanders arrived at Ole Miss after four years as the starting quarterback for Oklahoma State. He was the All-Big 12 first team quarterback in 2021. For his career, Sanders has thrown for 9,553 yards and 67 touchdowns. He has also rushed for 1,956 and 18 touchdowns.
Howard was a backup quarterback in 2022 for LSU, where his father started at quarterback in the 1990s.