LOOK: Juice Kiffin responds after Mike Bianco tweets photo of his dog from College World Series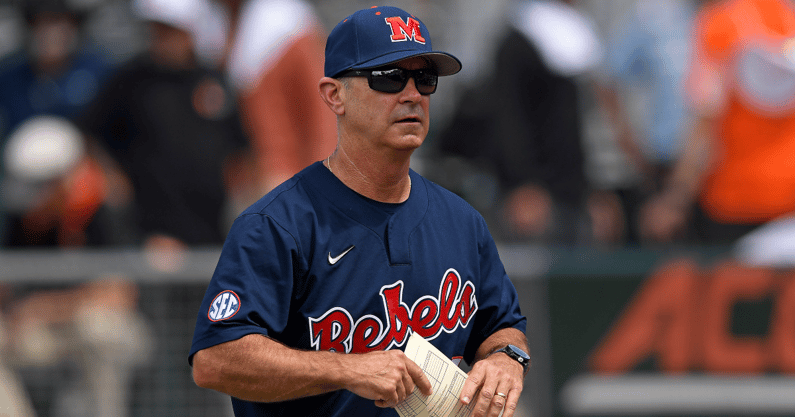 With his team waiting to take on Arkansas later this evening in the College World Series, Ole Miss baseball coach Mike Bianco thought it would be funny to take a picture of his dog, Dominic, from the team bus.
"Dominic is ready to go tonight, if necessary!" Bianco tweeted, tagging the Omaha police department.
Bianco's tweet prompted a response from the Twitter account of Juice Kiffin, the four-legged friend of Rebels football coach Lane Kiffin. Juice did not make the trip with Kiffin to Omaha to watch the Rebels baseball team, and has been taking his frustration out on social media the past few days.
"Seems like plenty of room for Juice on the bus," he responded to Bianco.
That wasn't the only humorous response Juice had to an Ole Miss tweet on Monday, though. After Lane Kiffin tweeted a picture of himself and his family heading to Omaha, Juice was not too pleased to be left out of the group.
"I'm getting into the trash can tonight this is so unfair," he wrote in response.
Ole Miss baseball won its first game of the College World Series on Saturday with a 5-1 triumph against Auburn. Dylan DeLucia got the start and set the tone through the first 7.2 innings, allowing just four hits in his time while striking out 10. The win marked the first time Ole Miss had surrendered a run since Regional play after pitching back-to-back shutouts against Southern Miss is the Super Regional.
With the win against Auburn, the Rebels now advance to face another familiar foe from the SEC in Arkansas. That game is set to begin at 7 p.m. ET Monday and will be televised on ESPN. With Juice unable to travel with Lane Kiffin, Mike Bianco will hope his dog can be the good luck charm the Rebels need.