Lane Kiffin addresses Ole Miss quarterback competition, timeline for naming starter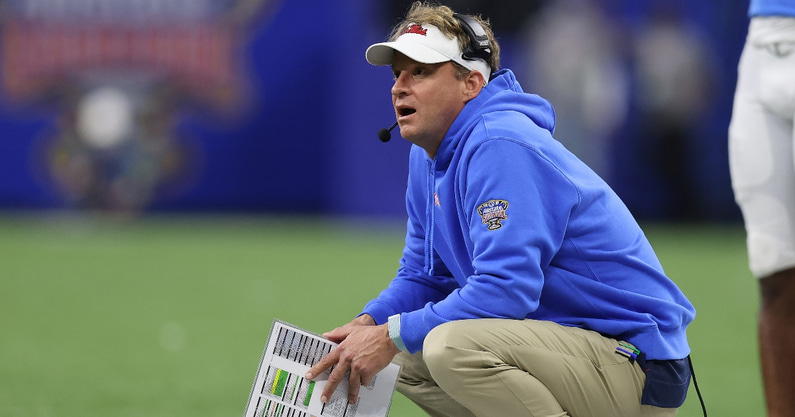 The Ole Miss Rebels and their head coach, Lane Kiffin, have the unenviable task of replacing one of the best quarterbacks in school history this season. Former Rebel Matt Corral peppered his name all over the record books in Oxford and was drafted by the Carolina Panthers in the third round of the 2022 NFL Draft. Kiffin had to figure out how to replace him and raided the transfer portal to bring in one of the nation's top prospects, former USC Trojans' star Jaxson Dart. He'll compete with Ole Miss quarterback Luke Altmyer for the starting job. Both players are sophomores this fall. On Wednesday, Kiffin spoke with the media about his team's quarterback battle and he also discussed the timeline for naming the starter this fall.
"Well, I could've predicted the first question. The quarterback battle. You know, we're looking for the guy that, you know, leads the team and moves the team the best. And the intangibles within that are timing, accuracy, and decision making," Kiffin said. "But that's why we also chart things by production by series once we get into these scrimmages. Both guys have this many series and this is how many points this team scores. That's the bottom line.
"Taking care of the football and scoring. So, I think that competition's great for anybody, especially both of them being young. So, I do think that makes you better, no matter how old you are. It's good to have around. And guys really gotta play good around, whoever it is, because you're replacing a veteran quarterback that played extremely well and at times, put the offense, especially with injuries, on his shoulders. And took it to himself to win the game. So, one of these guys isn't gonna fill that exactly yet. So, it's gonna take other people around to help that,"
Kiffin then revealed the timeline for naming a starting quarterback, but when that will be appears to be unclear at this point in time. "Anytime in these, you like to have it sooner than later. But you know, just like everything we do here, we do in analytics. The more information you have, the better you make a decision. So…we can't rush that. I think one time, I'm sure where I remember where we've done that and made the wrong decision. Because we didn't have enough information. So, however long that takes. Ideally, I have never liked that to go into a season. But…would never rule that out. But that would not be ideal," Kiffin said at his Wednesday press conference.
The Ole Miss Rebels kick off their 2022 campaign against the Troy Trojans on Saturday, Sept. 3. Kickoff is slated for 4:00 p.m. EST and the game will be nationally televised on the SEC Network.