Lane Kiffin explains how Ole Miss evaluates transfer portal talent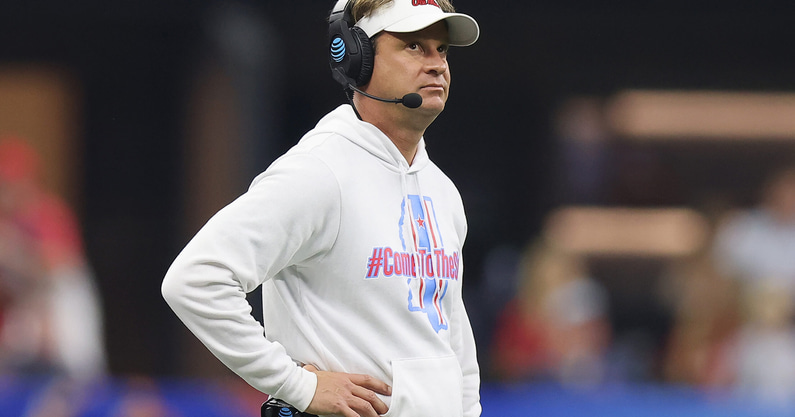 Over the past two seasons, we've seen more players enter the transfer portal than ever before due to various reasons including NIL, opportunities and even the fact that the new rules simply allow it to happen. Players are still navigating those waters just as much as coaches are, including Ole Miss head coach Lane Kiffin.
It's hard enough to recruit kids out of high school, now college coaches have to double down and scout talent from other Division I schools.
"We just have to watch them. I mean some of them you're familiar with, but you still gotta watch what they've done since [joining college football]," Kiffin said on The Rich Eisen Show recently.
According to Sports Illustrated's Ross Dellenger, over 1,400 Divison I athletes in college football alone have entered the transfer portal since the beginning of August. That makes at least 11 players for each of the 130 FBS football teams.
"We actually have players that are on our roster that went in the portal still playing for us took official visits," Kiffin said. "We have a player that signed somewhere else is going somewhere else, but playing in [the Sugar Bowl] and practicing for us. Think about that."
In pro sports, you have to play with the team you're contractually obligated to play for until said contract expires or you're traded, then you become a free agent. In Division I athletics in 2022, you can become a free agent any time you want, and that's where Kiffin takes offense to the new transfer portal rules.
Kiffin made the comparison that if an NFL athlete was playing for the Baltimore Ravens and for whatever reason has already signed a contract to play for the Pittsburg Steelers for the ensuing season, it's basically the same situation these days.
That begs the question: How do you coach a player that has essentially given up on your program?
"You'd be ready nice, I guess," Kiffin said with a laugh.
That's where Kiffin and his Rebel program's success can stem from; his ability to change with the times has kept him ahead of the curve when it comes to NIL, the transfer portal and other aspects of modern college football where some other coaches have failed to adapt.
"If you [coach] the old school way all the time, which we really don't do that anyway [at Ole Miss], but the old school coaches do it that way," Kiffin said. "Like, you're just gonna have to know you're going to have a lot of kids leaving and I'm not thinking of the ones that already signed, just in general."
The times are changing. We're fully emerged in the age of name, image and likeness. The coaching carousel is being matched with the Wild West that is the transfer portal, and Kiffin looks to stay ahead of the game in that sense.