Lane Kiffin addresses question on Grove Collective, NIL investment at Ole Miss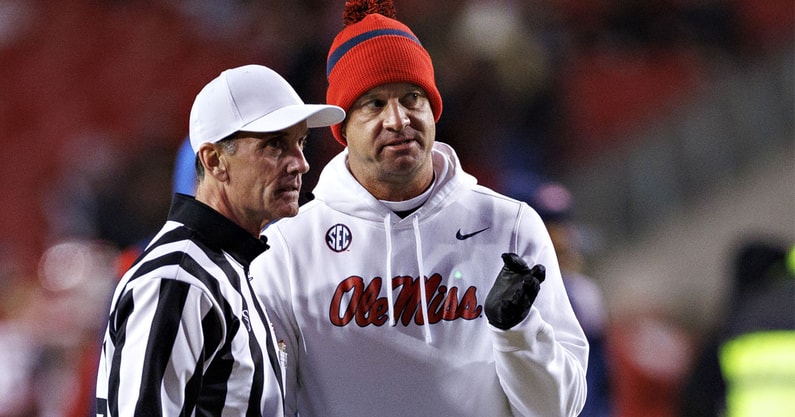 As NIL and the transfer portal have taken over the college football landscape, Ole Miss head coach Lane Kiffin has been one of the leading figures in using those two tools to a program's advantage. The Rebels have been a key player in the NIL space, specifically with The Grove Collective.
In the days leading up to the Egg Bowl between Ole Miss and Mississippi State, the Rebels' NIL Collective topped $10 million. Kiffin took a question about that milestone after the loss to the Bulldogs, and said that's a great sign for the future of the program.
CLICK HERE to subscribe for FREE to the On3 YouTube channel
"That's awesome," Kiffin said. "Very encouraging. Obviously, it has a lot to do with the world of college football that we're in — the ability for places to sign players and to keep their own players. That's very encouraging."
Of course, the question heading into the final weekend of the regular season is what's next for Kiffin's future in Oxford. He's been a hot name around the Auburn coaching vacancy with reports and rumors swirling heading into the Egg Bowl. On3's Matt Zenitz and OM Spirit's Ben Garrett reported Kiffin told his team he's likely staying at Ole Miss unless something significantly changes, but there's still plenty of chatter about the Tigers luring him away.
Lane Kiffin addresses Auburn rumors following the Egg Bowl
Mississippi State knocked off Ole Miss in an Egg Bowl classic on Thanksgiving by a 24-22 score, turning the focus to Lane Kiffin and Auburn as the rumors about the Rebels head coach being a serious candidate to take the Tigers job continue to swirl.
Kiffin addressed the rumors himself following the game in response to a question about whether he intended to be the coach at Ole Miss next season.
"Yes, I do," Kiffin said, according to David Eckert of the Clarion Ledger.
A report surfaced Monday that Kiffin planned to step down as Ole Miss' coach on Friday following the Egg Bowl to head to Auburn as the program's next head coach. It didn't take long for that story to take the Internet by storm.
Kiffin, a popular presence on social media, didn't waste much time responding. He quickly refuted that report directly, then trolled the reporter with a graphic from his Twitter account.