Lane Kiffin sounds off on Jimbo Fisher's verbal shredding of Nick Saban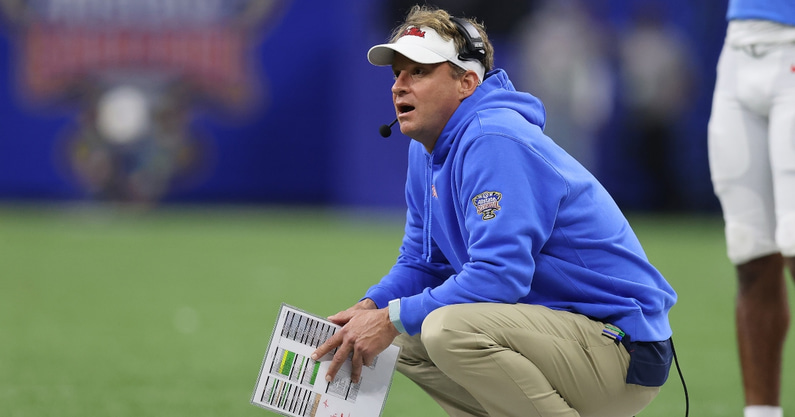 Ole Miss head coach Lane Kiffin had quite the reaction to Jimbo Fisher's press conference on Thursday, during which the Aggies skipper teed off on Alabama head coach Nick Saban. Fisher called Saban a "narcissist," among other things, after the seven-time national title-winning coach accused Texas A&M of buying their recruits via NIL. He also urged reporters to "dig into" Saban's past to find the "despicable" ways he operates his program.
"I'm speechless for the first time in my life," Kiffin told Fox Sports' Bruce Feldman. "(I kept saying) 'this can't really be happening.' I still haven't moved from my seat. Should have been on pay-per-view."
Kiffin has been sounding the alarm on the Aggies for months and was actively supporting Saban's takes after his comments on Wednesday. Soon after Saban's comments went viral, Kiffin quote tweeted his words with a GIF of Peyton Manning shooting finger guns.
On Thursday, Kiffin also posted some stats that he found interesting. He quote tweeted someone else's post that shows A&M's five-star count from before the NIL compared to the Aggies' historic 2022 class. From 2018-2021, Jimbo Fisher landed five five-star prospects. In 2022, after NIL passed, they signed seven in one class (nine per On3's Consensus rankings).
Jimbo Fisher goes scorched earth in Thursday press conference
Jimbo Fisher called an impromptu press conference on Thursday to once again address accusations that his program has used devious methods to sign top recruits.
"First, I want to say, it's a shame that we have to do this," said Fisher. "It's really despicable. It's despicable that somebody can say things about somebody, an organization, and more importantly 17-year old kids. You're taking shots at 17-year old kids and their families. That they broke state laws, that they're all money, that we bought every player on this group.
"We never bought anybody. No rules were broken. Nothing was done wrong. It was all – the way in which we do things, the ethics of how we do things. And these families, it's despicable that a reputable head coach can come out and say this when he doesn't get his way or things don't go his way. The narcissist in him doesn't allow those things to happen and it's ridiculous when he's not on top."
After addressing his thoughts on Saban's comment, he also took the opportunity to call his character into question.
"It's amazing, some people think they're God," said Fisher. "Go dig into how God did his deal, you may find out about a lot of things you don't want to know. We build him up to be the czar of football, go dig into his past, or anybody who's ever coached with him. You can find out anything you want to find out. What he does and how he does it, and it's despicable."
On3's James Fletcher contributed to this report.