Lane Kiffin: 'You have to be wired differently than most' to coach in the SEC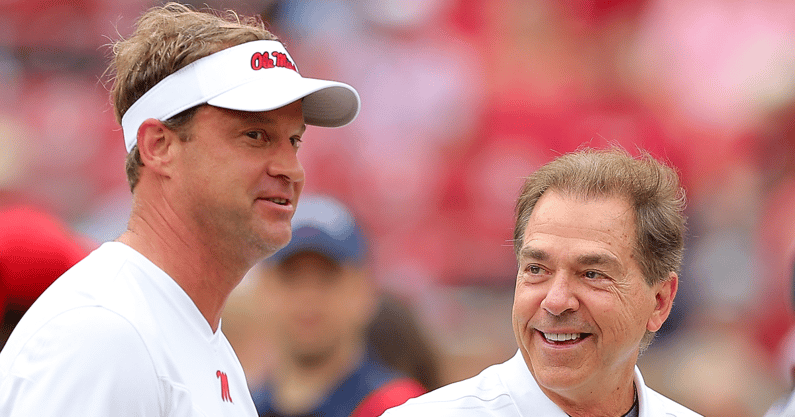 Lane Kiffin may be just 46 years old, but the Ole Miss front man came to Oxford with a bevy of coaching experience.
He's done it at the highest levels, from Tennessee to USC and even in the NFL with the Raiders.
In his second year leading the Rebels, Kiffin says it takes a certain mentality and style to be able to survive as a head coach in the ultra-competitive SEC.
"I've said it before, you know being around the SEC, this is not for everybody and certainly not as head coaches," Kiffin said.
"This is a lot of stress, a lot of pressure and you have got to be wired differently than most to be able to handle it," the Ole Miss coach continued.
Lane Kiffin–who also spent two years as the offensive coordinator under Nick Saban at Alabama— pointed out he's seen head coaches who buckled under the pressures that come with the SEC.
"I've watched head coaches crumble under it, so it is very challenging," Kiffin said. "It is different from the rest of the world. Other places are not like that. Other places are like 'okay it's football season and that's it.' This is football season every minute of every day."
Lane Kiffin makes case for why his QB should win Heisman
Kiffin believes Ole Miss quarterback Matt Corral should be at the forefront of the Heisman Trophy conversation and made a compelling case.
"He's been playing without his starting tight end, two of his top three receivers and having to create a lot of stuff on his own, and a banged up offensive line," Lane Kiffin said of his signal caller.
"You've seen his numbers have gone down comparable to how they started. That was because of having less players to play with. So I'd argue that he's playing as well as anybody in the country, and maybe one of the other favorites, his job is a whole lot easier when I watch their games than his."
Kiffin says the Heisman Trophy conversation has one major downfall and it's the reason Corral went from a frontrunner to more of an outsider as the season has progressed.
"Yeah, (but) the problem with the Heisman Trophy is that some of it is out of the control of the player," stated Kiffin. "You know, the more you win – and he can't control the defense – matters, and then injuries, who you're playing (with).
Throughout the season, Corral has been compared to quarterbacks like Alabama's Bryce Young and Pittsburgh's Kenny Pickett. After his claim about Corral, Lane Kiffin was asked if he was specifically referencing Pickett as a quarterback with an easier job than Corral.
"I don't know, maybe you guys can figure it out. There's one guy that sits back there for a long time and gets people wide open," stated Kiffin. "But he's a great player, don't get me wrong."
Evidently, there's one clear front-runner on Lane Kiffin's Heisman watch.