Matt Corral updates Sugar Bowl injury, decision to play in game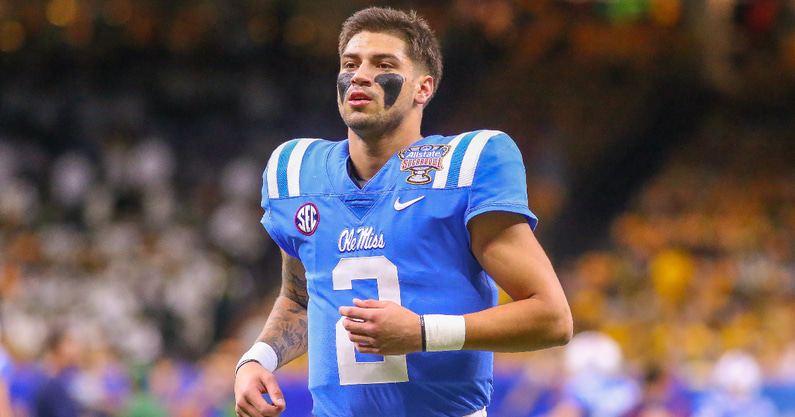 Ole Miss fans held their breath when Matt Corral went down with an ankle injury. With the NFL Draft, approaching, the former Rebels start is still hoping to be a first-round draft pick.
Corral updated his injury during an interview with Yahoo Sports' Eric Edholm this week. It sounds like he's doing well and the injury is fully healed, which is good with the NFL combine coming in just a few weeks.
And if he could do it over again, it sounds like he'd still play in the bowl game.
"Absolutely not, I don't have any regrets," Corral said. "I put my heart and soul into this team."
Given his passion for the Ole Miss program, Corral said he didn't have any qualms about playing in the bowl game. He wanted to play one last game with his teammates before heading to the NFL, and didn't want to be "selfish" and opt out.
"That is really the reason why I couldn't just (say), 'No, I'm not going to play in this game.' You know, it's selfish," Corral said. "I just felt like it was a selfish thing to do because I wasn't in this position by myself. I couldn't have done it without them."
Matt Corral on how it felt standing on the sidelines during Sugar Bowl
It wasn't easy for Corral to stand on the sidelines during the game, which Ole Miss eventually lost to Baylor 21-7. He opened up about that and what was going through his head as the game went on.
"Just looking into my coaches' eyes as I am crutching out there, and then my teammates all looking at me when I'm just walking back out there, and just seeing the look in their faces and looking in their eyes, it was a different feeling that I haven't felt before," Corral said. "And it hurt. It hurt deep, but just you know, and I had no time to just complain about it."
Now, the attention turns to the NFL Draft. The combine is coming up March 1-7 in Indianapolis, and the draft is set for April 28-30. Corral is a projected first-round pick by both Todd McShay and Mel Kiper Jr. at ESPN. McShay has him going to the New Orleans Saints at No. 18 overall and Kiper projects Corral to the Pittsburgh Steelers at No. 20 overall.
There's still plenty of time for him to increase his stock, too — especially since he's healthy.