Lane Kiffin: Ole Miss was embarrassed in Sugar Bowl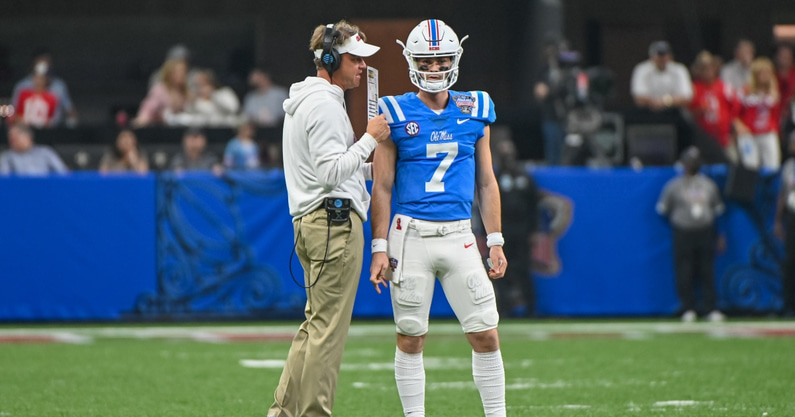 The last image of a historic 2021 season for the Ole Miss Rebels was a loss in the Sugar Bowl against the Baylor Bears. Coming in off the backs of a 10 wins season, head coach Lane Kiffin took his team down to New Orleans for one of the program's biggest-ever games but was not able to perform in the bright lights.
As spring practice gets underway in Oxford, Kiffin took time to reflect on the Sugar Bowl performance. He said even though there's a new team in town, it was "embarrassing" the way they played, especially on the offensive side of the ball. Kiffin likened his frustration to a postgame tirade about the defensive effort earlier in the year.
"Every year is new," Kiffin said. "Every team is new and we lost a lot. Even when you have a lot coming back, every year is new. We've kind of put that behind us. Haven't had you guys a lot since the last game and that was a difficult game. I felt we didn't play very well at all on offense. Obviously, I am the head coach, take responsibility for that. It was embarrassing. It was an embarrassing performance and we did not give them many issues at all schematically. I don't know if I have been a part of 10 sacks like that before.
"It was discouraging and the problem is, it's your last game. You got to live with that, you don't have another one to play seven days later. That was difficult to go out that way and especially as you go back and watch the film of the game, you really see how well we were playing on defense. You guys know my tirade after the Arkansas game and our performance on defense. This is right on that level offensively. That's as bad of a performance as you can have and unfortunately, in one of the biggest games in the history of the program."
Ole Miss played a majority of the game without their star quarterback, Matt Corral. Inuring his ankle, true freshman Luke Altmyer took over and there was little success for the Rebels. Their lone touchdown of the night game early in the third quarter when Altmyer connected with Braylon Sanders on a 38-yard pass. Everything else was rough, committing three turnovers and not passing for over 200 yards as a team.
Nonetheless, Lane Kiffin will be attempting to move on and focus on the 2022 season. With the offensive turnover facing his squad, he will be hoping to somehow even improve after a couple of additions via the transfer portal. So if Ole Miss is able to get back to a bowl game such as the Sugar Bowl, Kiffin will have the ammo to make sure there is not a similar result.