Report: Ole Miss likely to hire familiar face as co-defensive coordinator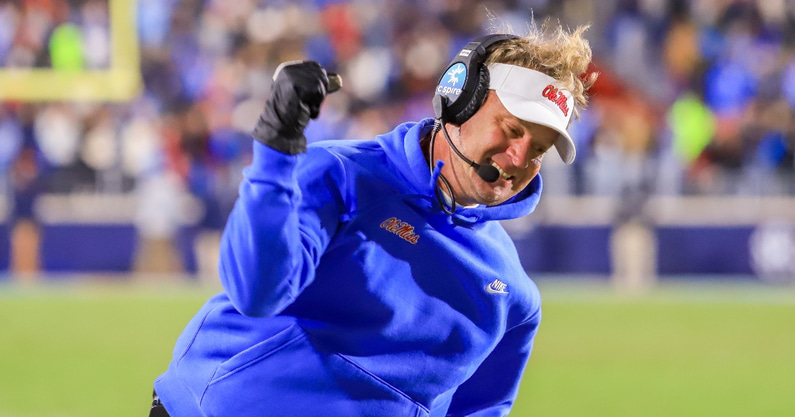 Ole Miss head coach Lane Kiffin needed a new plan at defensive coordinator after his former assistant and co-defensive lead D.J. Durkin left to take over the defense at Texas A&M last week.
On Thursday, Bruce Feldman reported Kiffin is likely to bring on his younger brother, Chris, as a co-defensive coordinator alongside Chris Partridge. Partridge was the co-DC this year with a particular focus on safeties.
The younger Kiffin, who is 39 years old, currently serves as the defensive line coach for the Cleveland Browns. Chris Kiffin was the defensive line coach and defensive recruiting coordinator at Ole Miss from 2012-16 under former head coach Hugh Freeze, and he was a graduate assistant for the Rebels in 2007.
The NFL line coach has coached with his brother before. He served as the defensive coordinator and linebackers coach at FAU in 2017 while the elder Kiffin was the head coach for the Owls. He was also a defensive administrative assistant at USC while Lane Kiffin ran the Trojans program.
Additional notable stops in his career include two years with the San Francisco 49ers and the same amount of time at Nebraska. He played defensive tackle at Colorado State.
Lane and Chris' father, Monte, is currently a player personnel analyst on the staff in Oxford as well. He is best known for his stint as the Tampa Bay Buccaneers defensive coordinator from 1996-2008.
Durkin, Partridge led revamped 2021 unit
Ole Miss' defense was greatly improved from the 2020 version of itself. Granted, the bar was relatively low.
The Rebels had the worst scoring defense and total defense in the SEC in 2020; they allowed 38.3 points and 519 yards per game.
With the help of Durkin and Partridge, those numbers dropped to 25 points and 427.8 yards per game, which put them in the middle of the pack in their conference. The Rebels still stumbled at times — they gave up 42 points to Alabama and 51 points to Arkansas — but all in all, Ole Miss fans should be pleased with the direction in which their defense is moving.