Lane Kiffin calls out NIL, exposes flaws in college football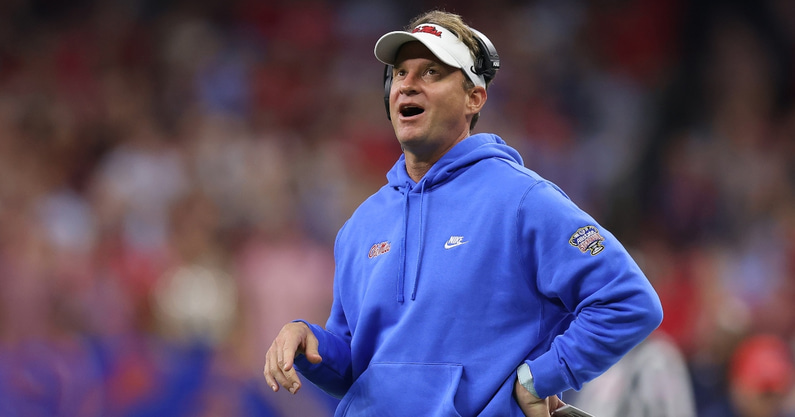 As national signing day approaches, the biggest story in college football is far from where high school recruits are going to play. Everything seems to be about NIL and how it's affecting the recruiting process.
Ole Miss head coach Lane Kiffin was the latest coach to call out NIL, exposing some of the negative aspects surrounding it. He even called out SEC West rival Texas A&M for their 2022 recruiting class, saying they should be paying a luxury tax.
"We don't have the funding resources as some schools with the NIL deals. It's like dealing with salary caps," Kiffin said. "I joked I didn't know if Texas A&M incurred a luxury tax with how much they paid for their signing class. Somehow, they're going to have to control NIL. You've got these salary caps. (Schools) giving players millions to sign before they play and other places not able to do that. What would the NFL look like if two or three teams could pay 10 times more in salary cap?"
Kiffin has experience trying to work with a salary cap, being the Oakland Raiders head coach for a season and a half. He compares college football is now if NFL franchises could throw as much money as they wanted to free agents.
Lane Kiffin continues on NIL
The Ole Miss head coach went on to say some schools are out of recruitments right away because of NIL. Kiffin said kids are going to follow where the most money is, just as they do in the NFL.
"There are schools with no shot to recruit certain players," Kiffin said. "If a class has an avg of $25M, that's $1M a person. In NFL free agency, players go to the most money. These players are 17 & 18, they're going to go where they get paid most. You've legalized paying players"
Before Wednesday's national signing day, Ole Miss currently holds the No. 20 class according to the On3 Consensus. From a NIL perspective, three-star Pike, AL running back Quinshon Judkins has the highest value, coming in at $29K.
Kiffin used Texas A&M's class as an example, implying they used NIL to pull in the No. 1 class in the country. For comparison, 10 Aggie signings or current commits have a higher On3 NIL evaluation than Judkins.
NIL will continue to evolve as time passes. Whether or not it becomes regulated is unseen as right now, there is no control over the process for schools and the players receiving money.