Lane Kiffin responds to Jimbo Fisher, sounds off on impact of NIL on college football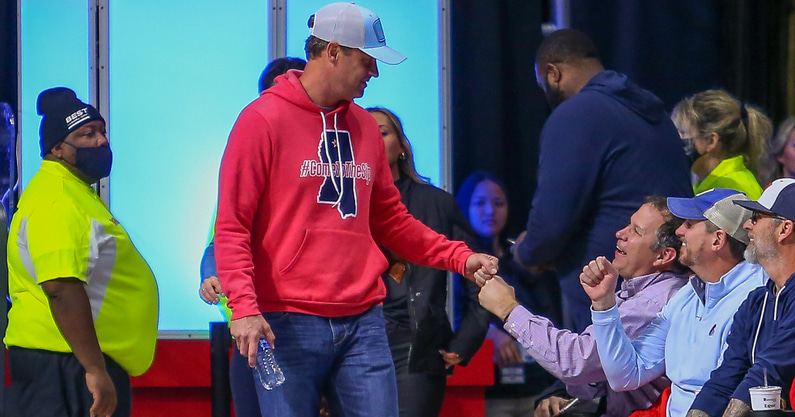 Ole Miss head coach Lane Kiffin has long made his opinion on NIL clear: the players can — and should — be paid, but the nature in which they're being paid is negatively impacting the sport.
"I mean, I've obviously said a lot about NIL from the beginning of it," Kiffin said. "Let's make sure that we understand: I love that the players are getting paid, and I just say how it is. So, I guess I got called a clown before for saying how it is. NIL has a lot to do with where players go, and to not think that is crazy."
Kiffin previously said that Ole Miss doesn't "have the funding resources as some schools with the NIL deals," and he went so far as to say that "it's like dealing with salary caps." He joked that Texas A&M may have "incurred a luxury tax" with its NIL spending, as the Aggies seemingly out of nowhere reeled in the No. 1-ranked recruiting class in the 2022 cycle, according to the On3 Consensus.
Texas A&M head coach Jimbo Fisher quickly defended the Aggies' recruiting and called out coaches, media and fans alike for NIL-based speculation. That prompted another response from Kiffin, who on Tuesday sounded off on the impact of NIL.
The third-year Ole Miss head coach made a callback to Fisher, who previously said the "coaches in our league" that make such broad-sweeping assumptions are "clown acts" and "irresponsible as hell." Kiffin thinks its far from irresponsible to point out the impacts of NIL, as his long-winded answer came in response to a question about a recent report that an unnamed five-star recruit in the 2023 class recently signed an $8 million NIL deal to lock up his commitment — without ever having played a snap of college football.
"I mean, it's (NIL) literally like being a head coach in the NFL, signing a great free-agency class of signing guys — going out and getting these great players — and coming up here and saying to you guys, 'The contracts had nothing to do with why the players came here, and they just want to come play for me,'" Kiffin said in Ole Miss' media availability. "Obviously, it has a lot to do with where players go, and it should. They're 17 or 18-year-old kids. Adults choose jobs, a lot of times, for money; for salary. So, why would a kid not?"
The details of the $8 million recruit are still a mystery, but Kiffin believes that NIL had something to do with it. If this free agency esque model remains unchanged, he thinks that college football might suffer.