WATCH: Ole Miss unveils uniform combination for Week 4 matchup with Tulsa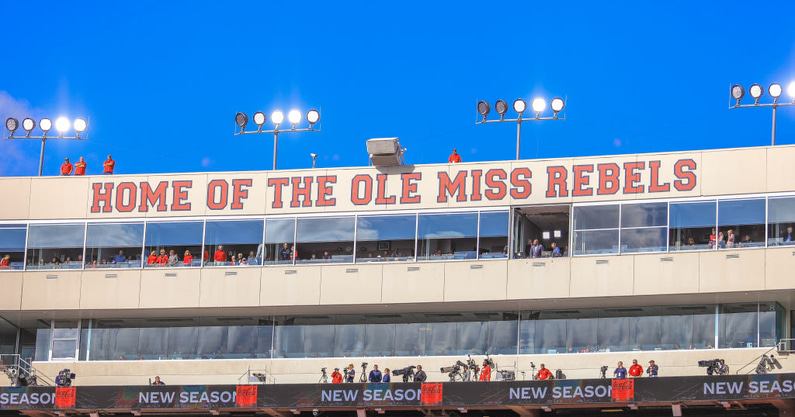 Ole Miss is off to a 3-0 start and is the No. 16 team in the country heading into a matchup against Tulsa this week. The Rebels are going to be wearing quite the ensemble, too.
Ole Miss tweeted a video Thursday night unveiling the uniform combination, which includes the dark blue jersey with white pants, white gloves and white shoes. A dark blue helmet with a red stripe is the cherry on top.
CLICK HERE to subscribe for FREE to the On3 YouTube channel
OIe Miss is coming off a resounding 42-0 win over Georgia Tech last week for its third victory of the season. Transfers Jaxson Dart and Zach Evans had solid showings to help lead the offense, too. Dart threw for 207 yards on an efficient 10 of 16 passing while Evans totaled 134 rushing yards and two touchdowns on the ground. The Rebels will try to carry that momentum into Week 4 against Tulsa Saturday at 4 p.m. ET on the SEC Network.
Lane Kiffin assesses the performance of Jaxson Dart after watching Georgia Tech film
After Ole Miss quarterback Jaxson Dart threw an interception with 24 seconds before halftime Saturday, coach Lane Kiffin saw a teaching moment. The Rebels were already up 21-0 on Georgia Tech, and Dart took a chance to try to increase that lead but paid the price.
The mistake caused some critical comments from Kiffin at halftime, and Dart likely got an earful from his coach in the locker room. It appeared to work, as Dart led the Rebels to touchdowns on their first three drives of the second half and they went on to claim a 42-0 victory.
After having a chance to watch the game film over the weekend, Kiffin was proud of the way his young quarterback responded to the challenge.
"He responded really well," Kiffin said. "I think 6-of-6. He came out in the second half after the interception for over 100 yards (and) 6-of-6 or 7-of-7 — one of the two. So that's pretty good. Didn't turn the ball over outside of that play. It was a really good job managing the game outside of that play."