Report: Lane Kiffin expected to sign extension at Ole Miss, details on terms emerge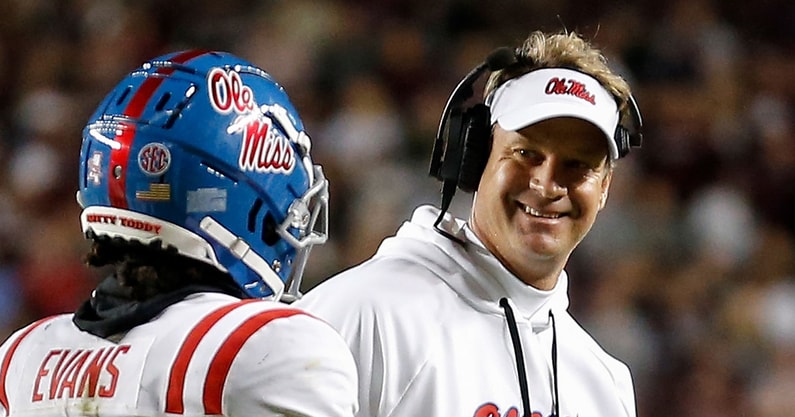 Lane Kiffin is expected to sign a contract extension with Ole Miss. The news comes after a week-long dispute on whether or not the Rebels headman would leave in favor of the Auburn Tigers.
Kiffin's new deal will be for at least eight years and will average around $9 million per year, per Sports Illustrated's Ross Dellenger. It should be noted that the state of Mississippi doesn't allow public employees to have contracts of more than four years. Instead, the deal is run through the Rebels' private foundation.
"I had a meeting with the team and the staff and told them I was staying and it would be announced after the game," Kiffin said, via ESPN's Chris Low. "I didn't want it to be about me staying before the game, but about the team."
Low previously reported that Kiffin had reiterated to his officials, staff and team that his plan had always been to stay at Ole Miss for the long haul. ESPN's Pete Thamel noted that the pull of Kiffin's family staying in Oxford had become an obstacle for both sides, and that conversations between the two had cooled over the past 24 hours.
CLICK HERE to subscribe for FREE to the On3 YouTube channel
Instead, Hugh Freeze has emerged as the favorite and the Tigers are expected to offer him a contract in the days following the Iron Bowl, per a separate report from Thamel.
If one thing's for sure, Jon Sokoloff – the reporter who broke the story that Kiffin was originally going to leave for Auburn – has made Kiffin a lot of money with Ole Miss officials seemingly scrambling to keep Kiffin in town.
Kiffin went back to Sokoloff's original tweet for a sweet, 'I told you so,' moment.
Ole Miss finished the regular season 8-4 (4-4, SEC) following the 24-22 Thanksgiving loss to rival Mississippi State Thursday in the Egg Bowl. The Rebels away bowl selections as the regular season wraps up throughout Saturday heading into conference championship week.