WATCH: Jerrell Powe narrates epic Ole Miss hype video ahead of Egg Bowl vs. Mississippi State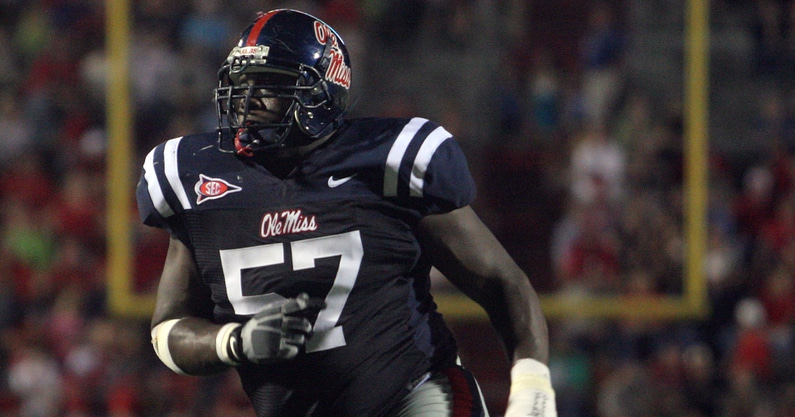 The Egg Bowl is the annual college football matchup of the fierce rivalry between two bitter rivals in the state of Mississippi — Ole Miss and Mississippi State. Former Ole Miss legend Jerrell Powe narrated the hype video for Ole Miss for the game this year.
Check it out below and it's truly one of the best hype videos of the 2021 college football season.
It's an incredible hype video for a number of reasons. One, Powe's deep voice is perfect for the narration aspect of the video. Two, the video does a great job of just combining a number of different elements — scenery from the state of Mississippi along with the highlights from prior Egg Bowls over the years.
The theme in the video is that silence is golden. Mississippi State's fans are famous for the really loud cowbells and the Rebels would love nothing more than to silence them, since this year's matchup is in Starkville, Mississippi.
Facts about the matchup between Ole Miss and Mississippi State
Thursday's Thanksgiving Day contest will mark the 88th all-time meeting between Ole Miss and Mississippi State dating back to 1932, with the Rebels leading the series 54-29-4. Ole Miss won last season's meeting 31-24 in Oxford.
The quarterback battle could be the story of the game. Ole Miss quarterback Matt Corral is among the favorites to win the Heisman Trophy, throwing for 282.3 yards and rushing for 50.2 yards per game this season. He's also thrown for 19 touchdowns, while only tossing three interceptions.
Mississippi State's Will Rogers, meanwhile, leads the SEC with 374.1 yards per game and has thrown 34 touchdown passes— second in the league only to Alabama's Bryce Young.
Sparks should fly and the scoreboard should light up on Thursday night between these two high-octane offenses guided by elite signal-callers. Pull up a seat.
Ole Miss (9-2 overall, 5-2 SEC) – which is ranked No. 12 in the College Football Playoff Top 25 – and No. 25 Mississippi State (7-4, 4-3) kickoff at 7:30 p.m. ET on ESPN from Starkville. The Bulldogs are a 1.5-point favorite over the Rebels.
On3's Tyler Mansfield also contributed to this report.