4-star Michael Van Buren set to play pivotal role in Oregon's recruiting efforts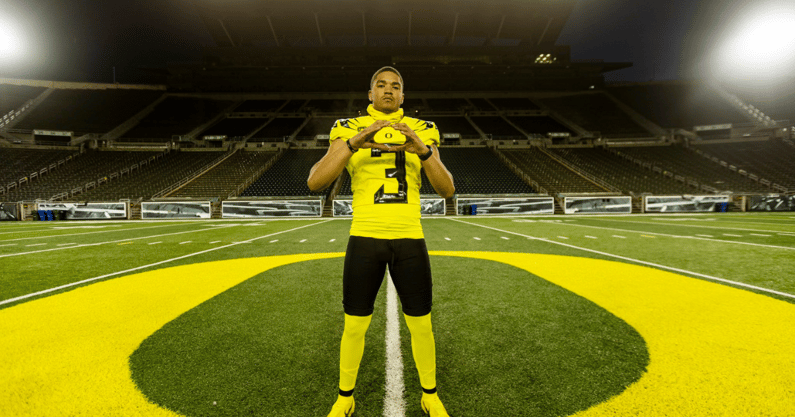 Bowie (Md.) St. Frances Academy four-star quarterback Michael Van Buren announced his commitment to Oregon on May. That pledge gave the Ducks their second quarterback of the 2024 recruiting cycle and possibly their quarterback of the future.
The No. 13 quarterback in the class, keeping Van Buren committed will be a major priority for Dan Lanning and the Ducks going forward.
On the latest edition of the On3 Roundtable, Oregon recruiting insider Justin Hopkins broke down how Oregon keeps Van Buren committed and some of the offensive targets he could go after:
"In today's recruiting, you certainly can't take a commitment for granted, right?," Hopkins said. "You can't just say he's committed and not worry about it. You know, Penn State and James Franklin aren't going to give up and Maryland isn't gonna give up on recruiting Michael Van Buren.
"A lot of teams are gonna come after him and say, 'do you really want to be part of a two quarterback class?'. Give Oregon credit for being able to pull that off, but that's going to be the obstacle you face in keeping him committed."
Offensive targets for Van Buren to go after
Building a strong offense around him will be the priority for Lanning and Van Buren going forward.
The Ducks currently have 14 commitments in their No. 9 nationally-ranked class already. Of those 14, nine are on the offensive side of the ball including a pair of four-star receivers in Jordan Anderson and Tyseer Denmark.
While class may already be more than halfway done, the work is far from over as Hopkins outlined a few of the offensive needs for Van Buren to try and recruit to Eugene with him.
"I think four-star wide receiver Ryan Pellum is probably one of his two biggest targets in this class and I'm sure that the staff has said, 'hey, this is a guy we really want, let's, let's get after him'," Hopkins said. "The second one has to be four-star offensive tackle, Brandon Baker out of California. You could call them 1A and 1B but both of those guys are two of the top targets for Oregon across the board. Brandon Baker is a must get there so I'm sure Van Buren's already hitting him up."
"Two others I've got are running backs I've got Nate Frazier and Jason Brown. They're both four star running backs on the west coast and I think Oregon is probably going to get at least one of them. I'm not sure they have room to take two running backs in this class, but those are just some of the immediate names that come to mind for Michael Van Buren."