5-star LB Harold Perkins visiting Oregon at the end of October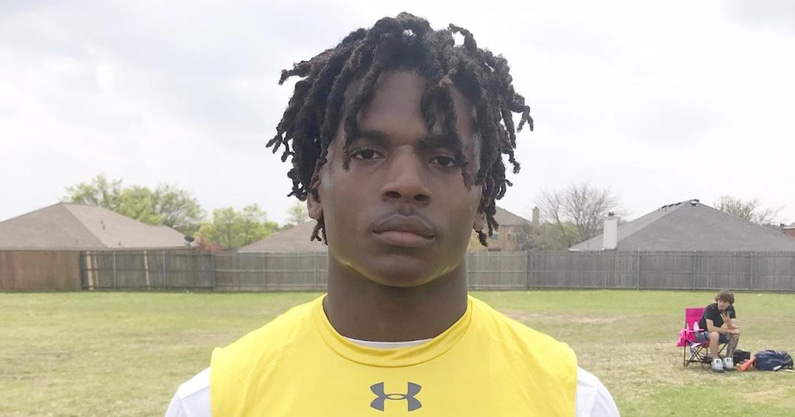 Cypress (Texas) Cy Park five-star linebacker Harold Perkins will travel to Oregon in about three weeks to visiting one of his top seven schools: Oregon.
Perkins — the No. 8 overall recruit in the 2022 On300 —  told On3's Gerry Hamilton that he will be in Eugene to watch the Ducks take on Colorado on Oct. 30.
His decision to take an official visit to Oregon is interesting considering he told On3's Chad Simmons in August that he is going to attend a school that plays in the SEC.
"That is where the dogs are at," Harold Perkins said. "That is where the best play. I am a dog and that is where dogs go."
Harold Perkins has gone on multiple visits so far this season. Perkins visited Texas two weekends in a row in September and visited LSU on Oct. 2.
Perkins had a game this past Saturday night that prevented him from making any visits, but he still celebrated Texas A&M's upset victory over Alabama.
Harold Perkins is a two-way beast in high school
Harold Perkins is the best linebacker in the country, but for Cypress (Texas) Cy Park, he might be even more valuable on the offensive side of the ball.
In six games this season, Perkins has 762 rushing yards on 38 carries for an average of 20.1 yard per carry, plus 13 touchdowns.
Harold Perkins is not only an effective runner but also a dominant one. His highlights from this season include a 98-yard touchdown run and a 51-yard touchdown run where he stiff arms a defender like he's a child.
On3 Director of Scouting and Recruiting Charles Power said Harold Perkins is one of the most athletic prospects in the 2022 recruiting cycle.
"At 6-foot-3, 210 pounds, he has the ability to play sideline-to-sideline as a defensive eraser," Power said in September. "He also has some explosive striking ability. We continue to see the athleticism on offense where he's a dynamic running back with the ability to outrun defenses."