Dan Lanning praises Kenny Dillingham for Broyles Award recognition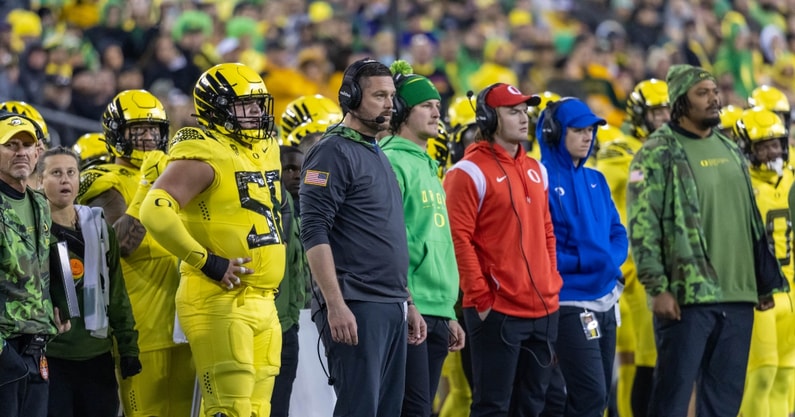 Dan Lanning is a name that is synonymous with stellar defensive play, especially after helping lead Georgia's defense as they claimed the 2021 national championship. But as a head coach at Oregon, it's his offense that has been receiving a ton of praise, operating like a well-oiled machine. Lanning credits his offensive coordinator Kenny Dillingham for the job he's done with the Ducks offense this season; a job that has earned him national recognition as he has been recognized for the Broyles Award. Recently the Oregon headman praised his offensive coordinator for the job he's done this season and for making the awards recognition list.
"Well, he's done a great job in a leadership role. Obviously, there for the entire offense," said Lanning. "And I think Kenny will be the first one to tell you when you get those awards; it's really a credit to everybody on that side of the ball. Every one of those players. Every one of those coaches.
"Kenny does a phenomenal job day in and day out, preparing his side, and really collaborating with his coaches. He would tell you it's a group effort whenever you get an award like that or up for an award like that. It's really an indication of the job you've done, but also the job of the people around you. He'd be the first to tell you it helps to have great players and great coaches."
Oregon has been known as an offensive team for much of recent history. From the days of Chip Kelly to their previous head coach Mario Cristobal, the Ducks have flown around on offense. And even though Lanning is a defensive guru, it doesn't look like Oregon's offense will be slowing down anytime soon. Especially if he keeps Dillingham recruiting and calling the plays on that side of the ball.
In Dillingham's offense, senior quarterback Bo Nix is enjoying the best season of his collegiate career. Nix has career highs in completions (244), completion percentage (72.4), yards per completion (9.1), and touchdowns. Even better, Oregon's offensive line has done a sensational job protecting him all season long, as he has only been sacked two times. Nix, while at Auburn, was known for his ability to play off script and make something out of nothing. At Oregon, the quarterback has elevated his game to a whole other level. And he can thank his offensive coordinator for helping bring the best out of him.