Dan Lanning reveals philosophy on communicating with players in today's age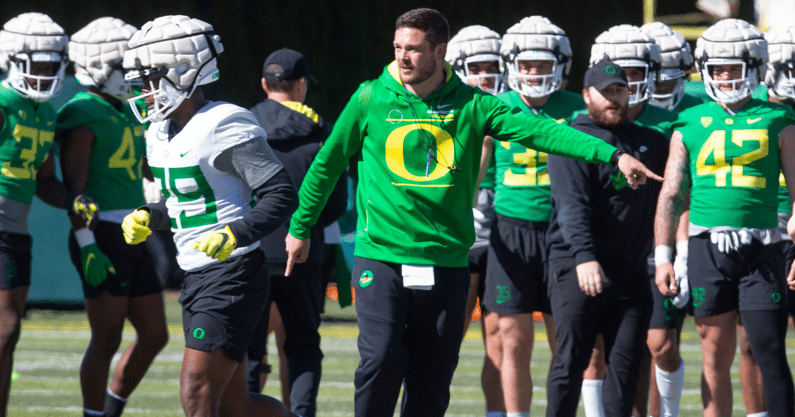 Dan Lanning is bringing some insightful philosophies with him to the Oregon Ducks.
Speaking with the media, the freshly-minted coach of the Ducks spoke about how he plans to communicate with his players throughout his first head coaching gig.
"I wouldn't say it's necessarily young or not young, I think it's just the decision that coaches have to make," began Lanning, when asked if being on the younger side helps him relate to players. "There's been, I've been around a lot of coaches that just don't feel like that's as important, and they're going to do whatever's necessary. But now I think we live in the day in age of why. Why right, why coach? I certainly believe that players are going to play harder for you when they know you care.
"I hired coaches that care. That was my big focus here, making sure I got guys that care about players, and care about relationships. When you have that, you're going to communicate. If you don't have that, you won't. Regardless of age, I think that's important to be part of our program."
Evidently, Dan Lanning has it all mapped out as he prepares for his first season at the helm of Oregon. Time will tell how his philosophy fares, but it sounds like the former Georgia defensive coordinator knows what he wants.
Dan Lanning gives interesting take on transfer portal
Moreover, Dan Lanning is a first-time head coach at Oregon. That means that this is the first time he has had to manage a roster. With the transfer portal, this can be incredibly difficult. He's leaning into it, though, with his own unique philosophy.
"I think there's a misconception with the portal that hey everybody's answers are in the portal," Dan Lanning said. "Your answers come from developing your own roster, your answers come from recruiting young guys, your answers come from having intimate knowledge of the people that you're gonna go pursue."
"The one thing that I can say about the guys that we went and actively recruited from the portal, we had intimate knowledge of those guys. We knew them well."
In other words, Dan Lanning doesn't believe in going and grabbing random players from the transfer portal. He wants to take players that he or his coaching staff have enough of a relationship with that they know what they're getting in them.