Dana Altman wants Oregon to 'prove it' over final stretch of regular season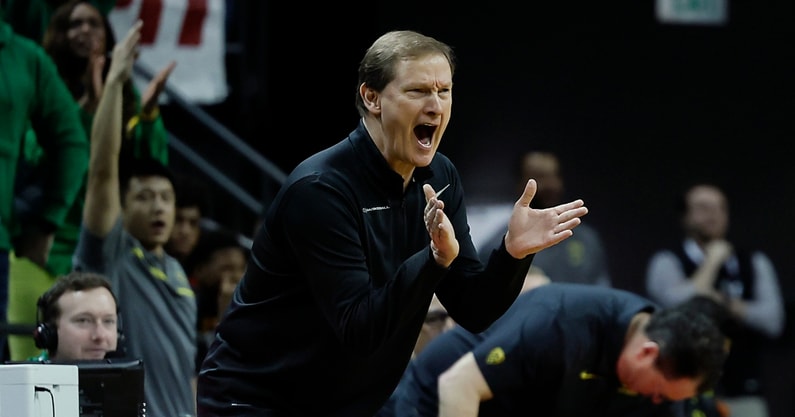 Oregon Ducks men's basketball has put together a quality season as we enter into the season's final leg. Their 13-9 record has them in position to punch their ticket to the big dance. Still, head coach Dana Altman wants his Ducks to "prove" themselves worthy over the final stretch of the regular season with more consistent play.
"You know, it goes week to week. Again, I want them to be more consistent; we've practiced more consistent. So, that's a good indicator," said Altman. "We had a good day yesterday, focus-wise. Today, we didn't go real long, but the activity and the focus was good. That usually leads to a little bit better consistency. But we have to prove it. We have to prove it as a team, prove it as a coaching staff that we're going to be consistent. You're not gonna prove it in February; you've about run out of time. So, we've got nine opportunities here in the regular season and hopefully a few in the conference tournament. And so, we just got to prove it here."
Oregon has been a team on a mission as of late. In the Ducks' last five games, they have gone 4-1, including an 87-68 victory over the No. 5 team in the nation, the Arizona Wildcats. And that same Wildcats team will be Oregon's opponent in their upcoming matchup. If Altman wants his team to prove they can be more consistent, Thursday night's matchup at Arizona is a good place to start.
Altman details decision to sit Kel'el Ware during Oregon's win over Utah
During Oregon's win over Utah on Saturday, nine different players took the floor for Dana Altman's squad.
Kel'el Ware wasn't one of them.
Ware, the second-highest-rated recruit in program history and a consensus 5-star in the class of 2022, was expected to be Oregon's next one-and-done star when the season began. Countless reputable NBA Draft analysts had him tabbed as a sure-fire lottery pick next summer.
But on a day when Oregon found itself in a must-win scenario, head coach Dana Altman and his staff felt that including Ware in the rotation did not improve their chances of notching a much-needed win.
In Saturday's postgame press conference, Altman repeatedly praised the effort of reserve forward Lok Wur, who did not score a point but led the team with a +/- of 17 in just 12 minutes during the 68-56 victory.
When asked if Wur's showing in practice and game scenarios could set an example for Ware, Altman offered this.
"It's for all of our team. You've got to stay ready," Altman said. "My job is to evaluate and put the team that, as a coaching staff, we feel gives us the best opportunity to win and will play hard. Tonight, that was the group I went with. That can change Monday, Tuesday, Wednsdsay, if guys get ready. But you still have to perform. You still have to play hard.
"I thought Lok did a tremendous job in the Colorado game. He's been practicing well and that's why he got the opportunity tonight."