WATCH: Fans that left duck on 'Block O' revealed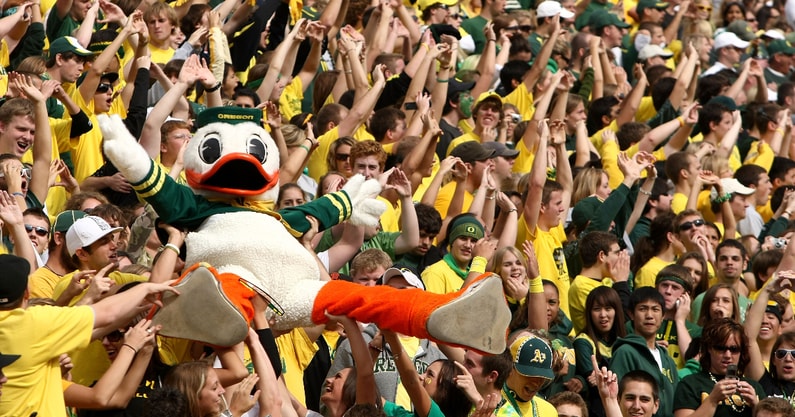 Oregon left Ohio Stadium last Saturday with a decisive, 35-28 win over Ohio State, but someone left behind a little memento for the Buckeyes. On Tuesday, that someone was revealed via Charlotte Wilder of FOX Sports — it was a family of Oregon fans: brothers Brixton and Dublin, and their father Asa.
In the middle of the famous "Block O" at the 50-yard line on the field sits a tiny rubber duck, a reminder of the 35-28 defeat the Buckeyes suffered this afternoon at the hands of the Ducks. 
The statement win was huge for the Pac-12, especially out of the North where Oregon was the only team to get a win last weekend. But Brixton and Dublin wanted to take the celebrations a step further.
Dublin, 11 and Brixton, 9 were the brothers that placed the duck on the field, they told Wilder.
"Basically after the game, we were all pumped, all excited. We were super happy in general. Before the game, we went to a tailgate, and as a little souvenir they gave us rubber ducks," Dublin said. "At the very end of the game, players were giving us high-fives. I gave one of the ducks to them, and then fast forward 15 minutes or so, and I got the idea of putting the rubber duck on the field — not knowing it was going to go viral or anything."
Dublin clarified that he put the duck on the midfield mark not for the sake of clicks or likes; rather, he did it "as kind of a troll."
Dublin added that he and his brother returned to the stadium the next morning, and one of the gates to Ohio Stadium was open. They walked in, went to the center of the field and found that the duck had been moved. However, the brothers still got a photoshoot in that Sunday.
Ducks never trailed in upset win
Oregon scored the first touchdown at the very beginning of the second quarter, and after an Ohio State answer, they scored two touchdowns to make it 21-7. 
They sealed the win on a crucial fourth-quarter interception. Ohio State quarterback C.J. Stroud dropped back on 3rd-and-18 and scrambled outside the pocket. The first-year starter moved to his right and looked to hit a wide receiver on the sideline. He floated the ball too high, and it was intercepted by Verone McKinley III. It was the only turnover of the game.
Oregon quarterback Anthony Brown went 17-for-35 with 236 yards and two touchdown passes. He spread the passes around, as 11 Ducks recorded a catch, and each had at least one reception of 10 yards. 
Running back CJ Verdell had 20 carries for 161 yards and two scores as well, including a 77-yard touchdown run.