Greg McElroy asks Kayvon Thibodeaux to take IQ test after FOX interview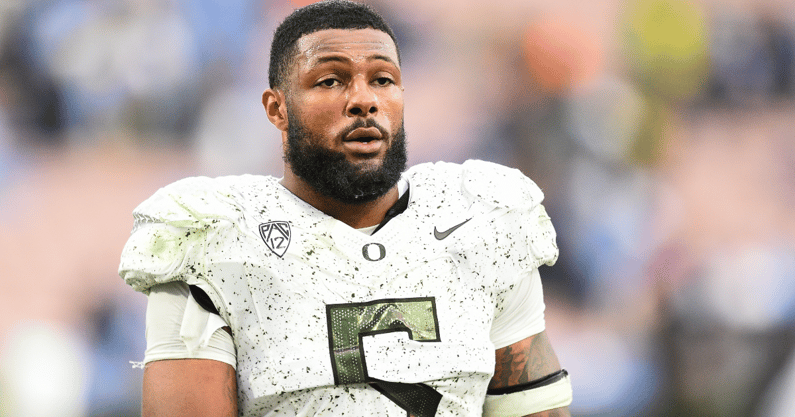 Greg McElroy is questioning the intelligence of Kayvon Thibodeaux after the standout Oregon defensive end took a shot at Alabama in a recent FOX interview. Speaking with Joel Klatt and TJ Houshmandzadeh, Thibodeaux explained why he chose not to play for the Crimson Tide.
"If I go to Alabama, I'm going to win a national championship," he said. "But I said, 'Do I want to be a guy who's known as a national championship winner? Or do I want to be a guy who's known for being a part of the greatest organization in the world?'"
Thibodeaux went on to say that he wanted to attend a school with a strong academic reputation. In doing so, however, he ironically used the word "stigmatism" when he meant "stigma."
"I already hate the stigmatism of football players being dumb jocks," Thibodeaux said. "Do you know the stigmatism of Alabama? It ain't the west coast. It ain't Harvard."
McElory, who played quarterback for the Crimson Tide from 2007-10, took offense to Thibodeaux's comments. The SEC Network analyst fired back with a heated response on his Thursday radio show.
"He says he doesn't like the stigma that athletes are dumb jocks, but he sounds like a dumb jock," McElory said. "I didn't realize that Duke, Vanderbilt and Northwestern were on the west coast. Everything's relative, so maybe that's west for somebody. But I wouldn't necessarily consider those schools to be west coast.
"…If he'd like to take an IQ test, I'm available. If he'd like to take the Wonderlic test, I'm available. As a proud graduate with multiple degrees from Alabama, I will put my degree up against his any day of the week. If he wants to take it one step further, I'd like him to show the offers. I'd be willing to bet Harvard didn't offer him. But Harvard did offer me. As did Princeton. As did Yale. As did almost every Ivy League school along with Duke, Stanford and Vanderbilt. And I chose Alabama. So put her there, Kayvon Thibodeaux. Continue to work on your 'astigmatism' and I hope you make an awful lot of money in the league before you have to shut it down. Because currently, the highly educated dumb jock approach is not working so well for you."
Thibodeaux was a five-star prospect in the 2019 class, receiving offers from several big-time programs, including Alabama. He lived up to the hype, finishing his three-year career at Oregon with 126 tackles (35.5 for loss), 19 sacks and three forced fumbles. He is projected as a top-five draft pick according to several major media outlets, with a promising pro career ahead of him.
Upon leaving Alabama, McElroy was a seventh round pick in 2011. He enjoyed a three-year stint as a backup in the NFL before retiring in 2013.
Regardless of the comments from Greg McElroy, Kayvon Thibodeaux has a bright future ahead of him. The 2022 NFL draft is set to begin April 28 in Las Vegas and will conclude April 30.