JD PicKell: How Dan Lanning, Oregon football have created national footprint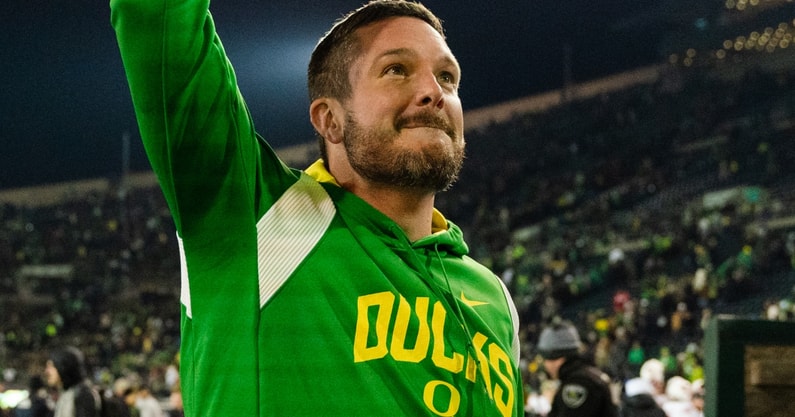 On3's, JD PicKell was a fan of Oregon hiring a former Georgia defensive coordinator Dan Lanning last offseason. The Ducks had an impressive first year under Lanning, finishing the year with a 10-3 record and a win over North Carolina in the Holiday Bowl.
PicKell sees things going even further for the Ducks thanks to the national footprint in college football they have created and are continuing to grow.
"At Oregon, the unfortunate reality is with that job; you're only as good as your reach," said PicKell. "What I mean by that, at Oregon, it's not necessarily a hotbed of high school football talent. I'm not saying there are no good players that come out of Oregon. But the reality is, if you want to find the hornet's nest of top players, you got to go elsewhere. And so for Oregon to have this reach now and go to Maryland and get a quarterback, go to Oklahoma and win a recruiting battle over the Sooners, take a four-star defensive lineman, that matters. That matters for Dan Lanning; that matters for this team."
"So why are they able to do this? Well, the first reason is Dan Lanning is just that dude and he comes from Kirby Smart staff. And remember this now, they played Kirby Smart in the opener last year, and he said we beat Oregon because we got better players than them. But then you start to think about it a little bit more, look at the roster, and you're like, he ain't lying. But Dan Lanning probably already knew that last year and has gone to work, via the recruiting trail, to go and get those Jimmys and Joes tirelessly, to be a part of what he's building at Oregon."
Oregon wound up bringing in the nation's ninth-highest recruiting class in 2023, according to On3's Industry Rankings. And in 2024, they are on pace to pull in their second straight top-ten recruiting class. And that is thanks to Lanning's ability to recruit in Oregon's backyard and throughout the South.
"The second part of this is the brand power that they have. The brand, the brand, the brand at Oregon. The Nike, the O; there's so much about that, that is visible. The brand power at Oregon, it's a real thing. There are a lot of kids; it doesn't matter where you grew up, who have memories of watching the Oregon Ducks playing meaningful football games. It's a lot of kids' dream school. You know what the O is when you see it, you know that swoosh when you see it. It's a visible brand.
"Dan Lanning is saying, I got this tool here; I got this rocket fuel. (I) might as well plug it into the apparatus that is Oregon football and take it on the trail and go to work. And that's what they've done, and we're seeing it pay dividends here. That's why they have a real chance to be as successful as they wanna be if Dan Lanning continues to recruit how he's recruiting."
While it may be just the start of Lanning's head coaching career, he is off to a solid start when it comes to recruiting and getting the best out of his players on the field. If he can continue this trend of success, it'll be only a matter of time before Oregon is mentioned with some of the top programs across the country and competing with them for the national championship.