Joel Klatt responds to critics of Kayvon Thibodeaux interview on Alabama education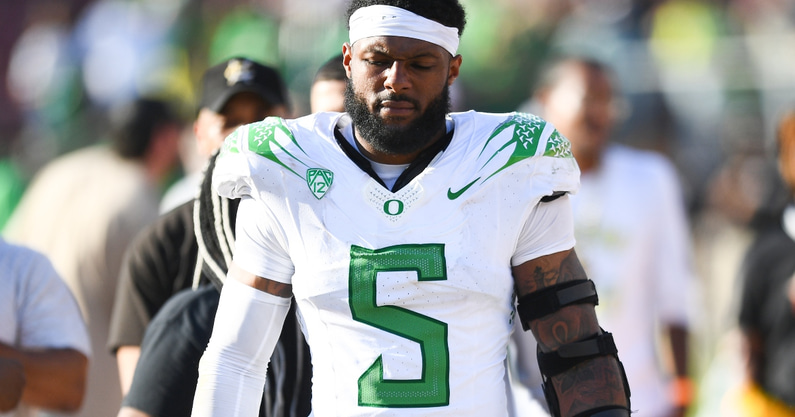 Joel Klatt is regretting not pushing back against Kayvon Thibodeaux for his comments on the University of Alabama. During Monday's 2022 College Football Playoff National Championship, the Ducks star disparaged Alabama education while explaining his decision to attend Oregon.
After the controversial comments made their rounds on social media, Klatt responded to the pushback.
"No excuses. Should've pushed back!" tweeted Klatt. "Fact is a University of Alabama education is very good."
Evidently, Klatt regrets letting Thibodeaux take the aforementioned point of view. After listening to the Oregon star's comments, it's tough not to see why it would be viewed as controversial.
"If I give you a fishing pole, would you know how to use it?" stated Thibodeaux. "If I've never learned, or if school has never been important to me, or a job or a career has never been important until I was done playing football, how would I know how to go get a career or job? I won't.
"I thought about and I said, what world do I want to be a part of? Literally. I sat back and said if I go to Alabama, I'm going to win national championships. Literally. But do I want to be a guy whose known to be a national championship winner, or do I want to be a guy whose known for being a part of the greatest organization in the world? You know what I mean? What people don't realize is that football is an American sport. So no matter how great Alabama is, people are going to play football in America, Canada, a couple other places. But a brand like Nike?"
Thibodeaux on Alabama: 'It's not the West Coast. It ain't Harvard.'
"For me it was like, what brand associations do I want to be tied to?" stated Thibodeaux. "For me, I already hate the stigmatism of football players being dumb jocks. So now, do you know the stigmatism of Alabama education? It's not the West Coast. It ain't Harvard. So for me, I had to look at it and say I was only going to be in college for three years. Like I said, if I would've went to Alabama — one, I would probably still be there. Two, I probably wouldn't have graduated yet. And three, I don't know if my degree would mean anything.
"I think Oregon may be the only place where you are guaranteed – I wouldn't say it's a guarantee – but there is a ninety-percent chance that if you want to, a Nike opportunity is there. And there's a guarantee that if you play football at Oregon, you can work in the corporate Nike world. That's a guarantee. Phil Knight — I can call him and he'll tell you that today."
Kayvon Thibodeaux has a lot of pride in Oregon, but his comments didn't need to be made at the expense of Alabama. Next time, Joel Klatt will be more mindful of letting Thibodeaux – or any other player – disparage one program to praise the other.