Ohio State trolled with object on field following loss to Oregon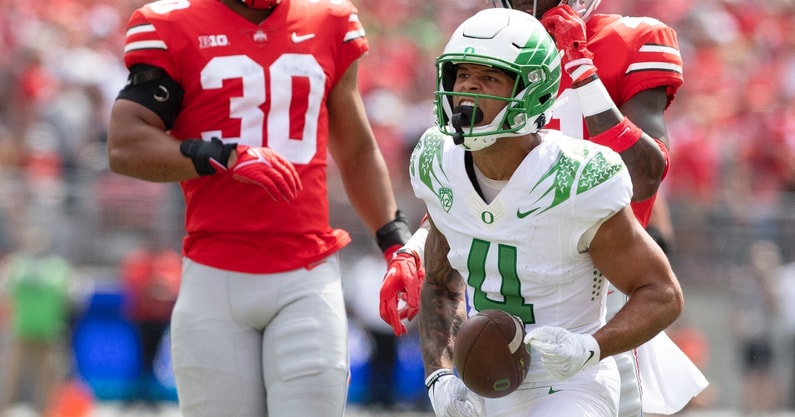 Oregon left Ohio Stadium today with a win, but someone left behind a little memento for the Buckeyes. 
In the middle of the famous "Block O" at the 50-yard line on the field sits a tiny rubber duck, a reminder of the 35-28 defeat the Buckeyes suffered this afternoon at the hands of the Ducks. 
The statement win was huge for the Pac-12, especially out of the North where Oregon was the only team to get a win last weekend.
Oregon head coach Mario Cristobal is now 7-4 against ranked opponents as the head coach of the Ducks. His last win against a non-conference ranked team was a 28-27 victory over No. 11 Wisconsin in the Rose Bowl after the 2019 season. 
Ducks never trailed in upset win
Oregon scored the first touchdown at the very beginning of the second quarter, and after an Ohio State answer, they scored two touchdowns to make it 21-7. 
They sealed the win on a crucial fourth-quarter interception. Ohio State quarterback C.J. Stroud dropped back on 3rd-and-18 and scrambled outside the pocket. The first-year starter moved to his right and looked to hit a wide receiver on the sideline. He floated the ball too high, and it was intercepted by Verone McKinley III. It was the only turnover of the game.
Oregon quarterback Anthony Brown went 17-for-35 with 236 yards and two touchdown passes. He spread the passes around, as 11 Ducks recorded a catch, and each had at least one reception of 10 yards. 
Running back CJ Verdell had 20 carries for 161 yards and two scores as well, including a 77-yard touchdown run.
Oregon got the win without a pair of their defensive stars
Defensive end Kayvon Thibodeaux is considered one of the top prospects in the 2022 NFL Draft class and has earned hype as a potential No. 1 overall pick. He was dominant in the season opener, forcing a strip-sack in the first quarter before leaving with a sprained ankle. He was day-to-day all week and ultimately did not play against the Buckeyes. 
Week 1 Pac-12 Freshman of the Week Justin Flowe also did not play in Columbus after suffering a right foot injury this week. He had 14 tackles and a forced fumble against Fresno State last week. 
While they ultimately got the win, Oregon definitely missed the two standouts. Their defense gave up 612 total yards to the Buckeyes, including 484 yards through the air by Stroud.
But at the end of the day, they left their mark and a rubber duck in Columbus.