Oregon coaches make midnight visit to former commit Jahlil Florence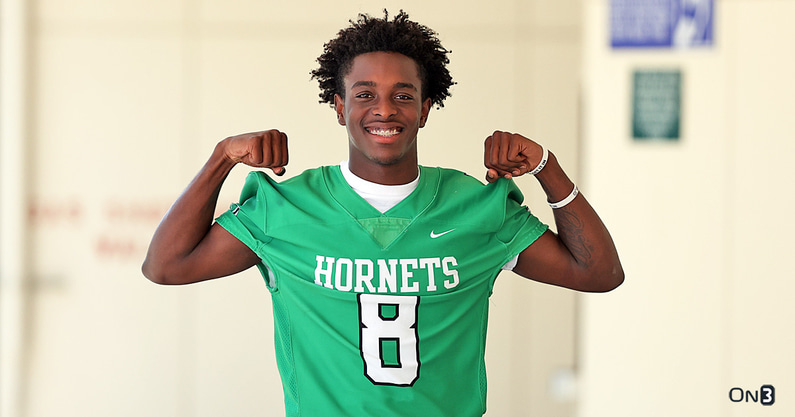 San Diego (Lincoln) cornerback Jahlil Florence was one of Oregon's most prized commits under previous head coach Mario Cristobal. But when he left for Miami, Florence ultimately decided to reopen his recruitment. Now, though, it's the Ducks new coaching staff that is looking to reel him back in.
Florence named Oregon among his top five schools recently. And just after midnight on Friday morning — the first day coaches can be back doing in-home visits with 2022 prospects — they were at his doorstep.
Oregon sent cornerbacks coach Demetrice Martin and defensive coordinator Tosh Lupoi for a visit that lasted longer than two hours. Florence posted an Instagram story with both at 2:26 a.m.
Florence is the No. 151 prospect in the 2022 class, according to the On3 Consensus, a complete and equally weighted industry-generated average that utilizes all four major recruiting media companies. On3's own rankings are quite a bit higher on Florence than the rest of the industry, pegging him as the No. 71 prospect in the 2022 cycle.
Next steps are uncertain for Jahlil Florence
Last weekend, Florence named his top schools, which included the Ducks, as well as Oklahoma, USC, Miami and Florida.
He told On3 Director of Recruiting Chad Simmons that he would visit Miami this weekend, then head to Oklahoma next weekend (Jan. 21) and would take his final visit back to Oregon now that the Ducks' new coaching staff is in place. He is expected to make a decision on or before the signing period opens February 2.
Earlier this week, he tweeted out a confirmation of that visit to Miami. But it now appears that tweet has been deleted. On Wednesday, he tweeted: "Due to personal reasons, my family and I would not be taking any more visits as of right now. Thank you to every coach and every university who gave me an opportunity at their university."
That news, combined with the Ducks staffers visiting him early this morning, would appear to bode well for Oregon. Other than USC, it is the only one of his current finalists that he has taken an official visit to.