Dan Lanning details how Jamal Hill has grown as person, player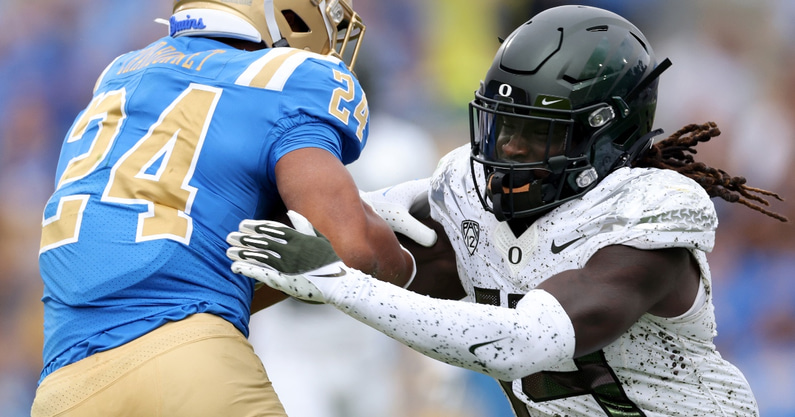 As Dan Lanning enters his first season as a head coach leading the Oregon Ducks, he already has some player-led leadership on his roster. Lanning talked about safety Jamal Hill, and how he's impacted the team on and off the fiend this offseason.
"I've been so impressed with Jamal, he's one of those guys you talk about you, you don't have to say you do it, it's really actions not words, and Jamal has been that. He's a great ambassador for our program, I think every single one of us have times in our life where we wish we could have gone back and done something different, and I think Jamal is no different than that. But since I've been here he's been nothing but exceptional, he works extremely hard, he holds the players around him accountable," Lanning said.
Hill, a Georgia native, has a established himself as a down hill, hard hitting safety for the Ducks and has put together a handful of impressive statistical performances for Oregon in his career. In the 2020 shortened season Hill had a four pass break up game against UCLA, then two weeks later followed it with a five tackle, two interception game in the Pac-12 Championship versus USC.
"There's plays he wants to have back, I know I saw him in the locker room after the spring game and he was frustrated because he cares, and I think when you care there's a high element of success for people who care and Jamal's a guy that cares. Really excited about his future in our program and his leadership this year to show up," Lanning said.
Lanning will need all the help he can get from Hill and others, as Oregon opens the season up against defending National Champions UGA, the school where Lanning was just previously the defensive coordinator. It will be his college head coaching debut and with big expectations, as the Ducks have made a Pac-12 Championship appearance in their last three seasons.
Dan Lanning evaluates the secondary heading into fall camp
Dan Lanning has some confidence in the Oregon secondary heading into fall camp.
Speaking with the media, the Ducks coach evaluated the talent level and how far along the position group is at the moment.
"We're not there yet," began Lanning. "I think we have players that can win. Play winning football. We have to figure out how much of our scheme they're able to pick up. Then, everything — I'm an old high school football coach, right? Ultimately, in my experience, you want to make sure you put your players in a position to win. There's something they can do really well, you want them to do that frequently. If there's something they struggle with, don't ask them to do that. 
"I think practice is going to be our opportunity to see that. There's several guys that you just brought up that haven't been here yet this spring. They didn't get to go through spring practices. I hate that for them, because they're going to be drinking through a fire hose early here in camp. That being said, I feel good about that room. It's more about us as coaches doing a good job developing them. Getting them ready for that performance on the field. Making sure we're asking them to do things that they can do."
Throughout his time at Georgia, Dan Lanning kept the Bulldogs defense among the best in the nation. At Oregon, time will tell if he can build another monster in the college football world.