Oregon offers 4-star Trevion Williams 2 days after reopening commitment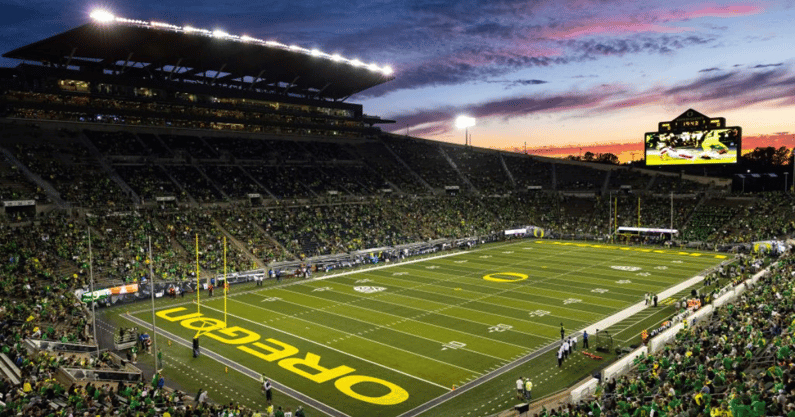 Oregon extended an offer to Crystal Springs (Miss.) 2022 four-star EDGE Trevion Williams on Monday night.
The offer comes two days after Williams reopened his commitment after committing to Florida State in June.
Interestingly, Williams said one of the reasons he is backing off his commitment from Florida State is he wants to be closer to home.
"I had my options weighed and I've sort of backed off of FSU a little bit to weigh my options again," Trevion Williams told the Clarion Ledger. "I'm trying to stay close to home. Or if I can get a better offer for what I feel like is best for me to get to the next level."
Tallahassee, Fla., is about 364 miles away from Crystal Springs. Eugene, Ore., is over 1962 miles away.
Where would Trevion Williams fit in the Oregon class?
If Trevion Williams ends up decommitting from the Seminoles and heading to Oregon, he would be filling one of the Ducks final open slots in its class.
The Ducks top-10 class has 21 commits, including eight On300 recruits. Humble (Texas) Summer Creek offensive tackle Kelvin Banks, San Diego Lincoln cornerback Jalil Tucker, Anaheim (Calif.) Servite wide receiver Tetairoa McMillan, San Diego Lincoln cornerback Jahlil Florence, Katy (Texas) High wide receiver Nicholas Anderson are rank as top-100 recruits in the country.
Despite the high level of the class, it has a lack of edge rushers. Only one other player in the class is a EDGE, Portland Central Catholic three-star
Emar'rion Winston.
And while Florida State is trying to keep Trevion Williams as a member of its top-10 class, Oregon is doing the same with some of its recruits.
Arizona is going hard after McMillan, who has three teammates committed to join the Wildcats.