Oregon starting quarterback Bo Nix talks injured ankle, updates how he's feeling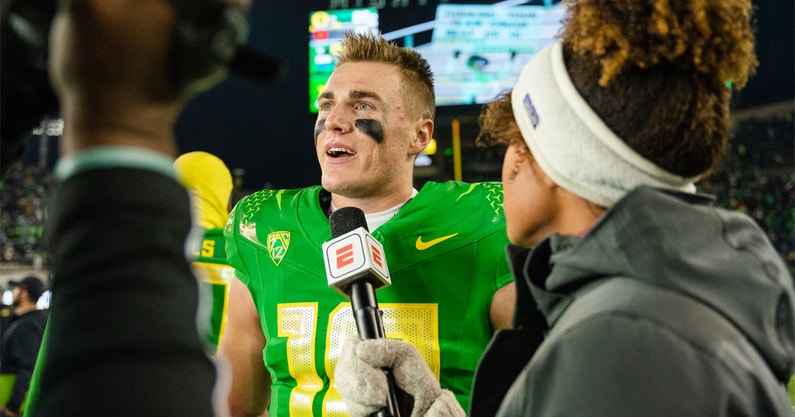 Oregon is one win away from reaching the Pac-12 Championship Game and all eyes are on Bo Nix's injured ankle as the Ducks prepare for a trip to Corvallis, Ore., to take on rival Oregon State.
Nix played in the team's win on Saturday against Utah, though he was clearly limited a bit and wasn't as mobile as he has been most of the year. But he feels significantly improved this week.
"It's doing well. Lot better this Tuesday than what it was last Tuesday, so I'm very thankful," Nix told local reporters on Tuesday. "Our training staff is doing a great job and we're just monitoring it and should be good to go."
Though Oregon is at No. 9 in the latest College Football Playoff rankings it would probably take an incredibly improbable amount of chaos unfolding for the Ducks to legitimately enter the conversation again for a top-four spot and a playoff berth.
Still, Nix has been a revelation in Year 1 under new coach Dan Lanning, who plucked him out of the transfer portal to pair with former Auburn offensive coordinator Kenny Dillingham.
The Auburn transfer has gone 244-of-337 passing for 3,062 yards and 25 touchdowns against just six interceptions. He's also added 80 carries for 513 yards and 14 rushing touchdowns.
A healthy Nix gives Oregon a chance to beat just about anyone.
Bo Nix's injured ankle on the mend
One thing Nix brought up in meeting with reporters is that there's a silver lining of sorts to his injury this time around.
A Bo Nix injured ankle is nothing new for him at this point. He suffered a season-ending ankle injury at Auburn a year ago that kept him out of the final two games of the season.
"Thank goodness this one obviously is a lot better than the last one," Nix said. "Able to still get on it and play, go through some of the aches and pains of it because I've kind of been there and know what to expect with the ankle. I think that, to be honest, has kind of helped, just already been through it in the past, already know what to expect with this one, how to treat it and stuff."
One of the few things that is slightly different this time around is the name Nix has continued to build for himself. He was a popular figure at Auburn, but he wasn't necessarily a household name and a Heisman Trophy contender.
He is now, which means he's reading about his ankle injury quite a bit more.
It hasn't bothered him that much.
"A lot of guys in the country, injuries are one thing about college football," Nix said. "If a guy's injured and it's kind of uncertain it's kind of the buzz around; I guess Bryce (Young) was kind of the same thing about a month or two ago. It's just kind of college football, social media, and that's just the way we're going."
Oregon will look to clinch its spot in the Pac-12 Championship Game on Saturday when it travels to Oregon State for a 3:30 p.m. ET kickoff on ABC.