Ty Thompson gives candid answer on Oregon quarterback competition, Bo Nix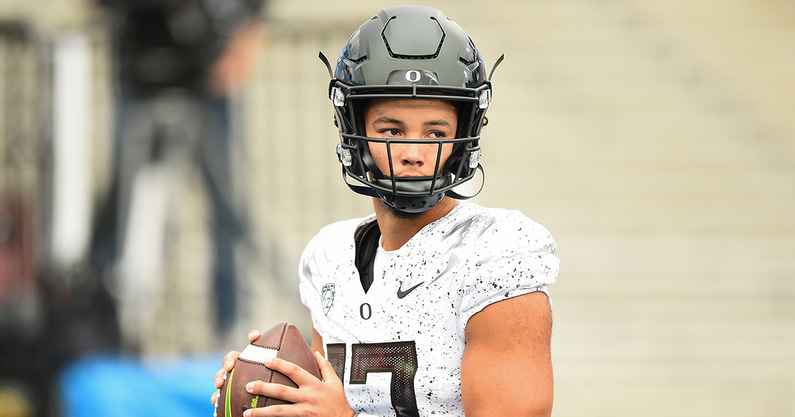 Oregon made a splash on the transfer portal this offseason, landing former Auburn quarterback Bo Nix — and creating competition for Ty Thompson. He talked about that ahead of the Manning Passing Academy, which he's attending in Louisiana this weekend.
Thompson served as Anthony Brown's backup last year and was preparing to compete with Jay Butterfield for the starting job. But adding Nix threw an interesting ripple into the situation since he started games at Auburn. With training camp looming, Thompson said he's only worrying about being the best quarterback he can be through the competition.
"We do have a very competitive QB room with me, Bo, Jay, everybody else that's coming in, right?" Thompson said. "So I'm just trying to be my best self every day, improve every day, not worry about what they're doing. Worry about myself, be the best Ty Thompson I can every day and, hopefully, the coaches make a decision that favors the team.
"Whether that's me starting Game 1 against Georgia or me holding the water for my boys and cheering them on from the sidelines or whatever I'm doing, I'm just happy to be out there working hard for my boys getting us better."
Ty Thompson on what he wants to work on heading into camp
Thompson also addressed some areas he can improve ahead of training camp. He pointed to some on-the-field skills, but he's learning from Nix to improve one thing off the field: leadership.
"I'd say personally as a quarterback, I would say post-snap reads, confirming that with my pre-snap tips and stuff like that," Thompson said. "Getting my eyes downfield and really grinding through progressions, that's been a big thing for me. And then obviously as a quarterback you can always work on accuracy and decision-making, like I said, post-snap looks and stuff like that.
"I'd say being a leader, Bo's done a really good job showing me really what it takes to be a true high-level quarterback leader, so working on that type of stuff. I'd say that's about it."