WATCH: Oregon gets key interception in 4th quarter to secure upset over Ohio State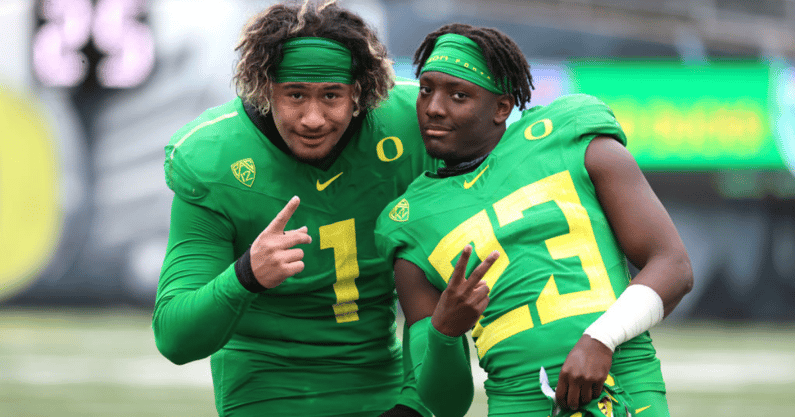 The Oregon defense came up with the play of the game against Ohio State, picking off C.J. Stroud late in the fourth quarter. The Oregon Ducks played without two key members of the defense but still did enough to limit the high-powered Ohio State offense and come away with a 35-28 win Saturday.
Stroud dropped back on third-and-18 and scrambled outside the pocket. The first-year starter moved to his right and looked to hit a wide receiver on the sideline. He floated the ball too high, and it was intercepted by Verone McKinley III.
The Ducks took over with a 35-28 lead and 2:50 left on the clock. The Oregon offense was able to take over and secure a first down, running more time off the clock. Ohio State took the ball back with 20 seconds remaining and no timeouts deep in their own territory.
Stroud was sacked by D.J. Johnson on the final play of the game.
Missing a pair of defensive stars
Oregon is without star defensive end Kayvon Thibodeaux and linebacker Justin Flowe on Saturday, which makes the Ducks' defensive performance so far much more impressive.
Thibodeaux is considered one of the top prospects in the 2022 NFL Draft class and has earned hype as a potential No. 1 overall pick. He was dominant in the season opener, forcing a strip sack in the first quarter before leaving with an ankle injury. The 6-foot-5, 258-pound edge rusher later returned to the sideline in a walking boot.
He is a 6-foot-5, 250-pound defensive end who has developed into one of the top edge rushers in his class. Therefore, Thibodeaux is considered a top-10 NFL Draft pick next season by many analysts. He also won the 2020 Morris Trophy, given to the best lineman in the PAC-12 each season.
In 2020, Thibodeaux finished with 38 tackles and three sacks, in addition to three pass break-ups and two quarterback hits in seven games.
Flowe is the anchor of the defense at middle linebacker. He finished Week One's win over Fresno State with 14 tackles. Flowe is dealing with a right foot injury suffered during the week.
Last season, Flowe appeared in Oregon's opener against Stanford and recorded a tackle before suffering an injury in the game. He was sidelined for the remainder of the season but was reportedly back to 100% prior to Saturday.
Flowe shares the freshman linebacker spotlight with linebacker Noah Sewell. The other former five-star recruit is brother of 2021 first-round NFL Draft selection and former Oregon offensive tackle Penei Sewell.