James Franklin discusses challenge of preparing for Ohio State, other Big Ten teams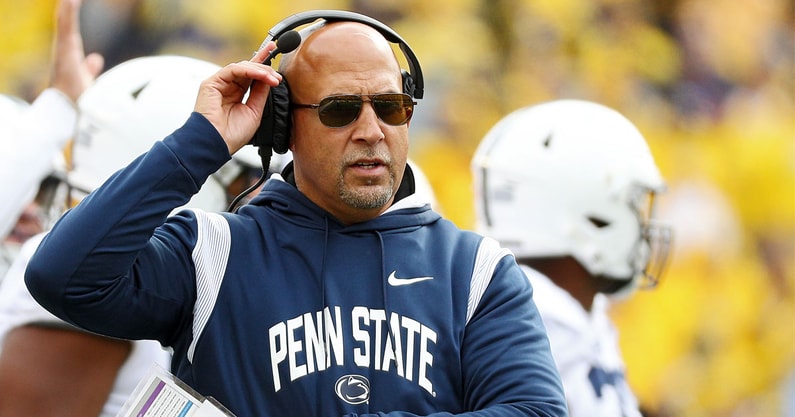 No. 13 Penn State will have a chance to get back into the thick of the College Football Playoff hunt and the Big Ten championship race on Saturday when it hosts No. 2 Ohio State in Happy Valley. The Nittany Lions know they'll be in for a vastly different challenge than a week ago, when they knocked off a run-heavy Minnesota Golden Gophers squad 45-17.
That's part of life in the Big Ten, coach James Franklin explained on Tuesday. You may have to drastically alter your plan each week.
"I think that's one of the things that maybe frustrates people. And I'm not talking specific to Penn State, I'm saying in general, there are certain weeks where you feel like you match up better, whether it's scheme or there's certain weeks, whether it's personnel, better than other weeks," Franklin said. "There's no doubt about that. You may have an injury at a position or two and that position is where their strength is — there's a lot of things that factor into it."
Minnesota ranked 15th in the country in rushing offense but just 98th in passing offense. Ohio State has the nation's most efficient passing offense, replete with weapons all over the field at wideout.
From one week to the next, Penn State's defense could look very, very different schematically and personnel-wise.
"No different than these teams that play from a 4-2-5 shell," Franklin said. "They're playing with a nickel almost predominantly on the field and then you go play a team that's going to try to play smashmouth football and you've never played with three linebackers on the field.
"I know that was a big discussion Saturday is we had those three linebackers on the field, well that made a ton of sense against Minnesota and what they do."
The challenge of preparing for Ohio State? That'll be a different beast.
Diversity of offensive styles in Big Ten a real challenge
Franklin's point, prompted by a question from a reporter, was that it's difficult to construct a roster capable of handling the variety of styles you might see over the course of a season in the Big Ten.
There are ground-and-pound offenses and true spread passing attacks.
"That's the challenge, right? You've got to be able to feel like you can line up and match up from a skill and athleticism perspective with an Ohio State one week and then, say you make it to the Big Ten championship like we did, and you play Wisconsin, that's a very different animal that you're getting ready for," Franklin said. "You have to either have the depth and the diversity within your personnel to do it."
How can defenses manage that?
Well, one way is recruiting versatile players that have the size and athleticism to handle multiple roles. Franklin pointed to former defensive lineman Kevin Givens as an example. Givens would play tackle against more pass-heavy teams, then slide out to end to add a bit more bulk to the defensive front against run-heavy squads.
We'll see how well the Nittany Lions are able to handle a well-balanced Buckeyes squad that can score from anywhere. Franklin knows it won't be easy, but he's tried to assemble a roster capable of handling the week-to-week shifts.
"That's what you're trying to do," Franklin said. "You're trying to build a team that can do both, which is easier said than done."