Rece Davis, Pete Thamel predict outcome of Penn State vs. Purdue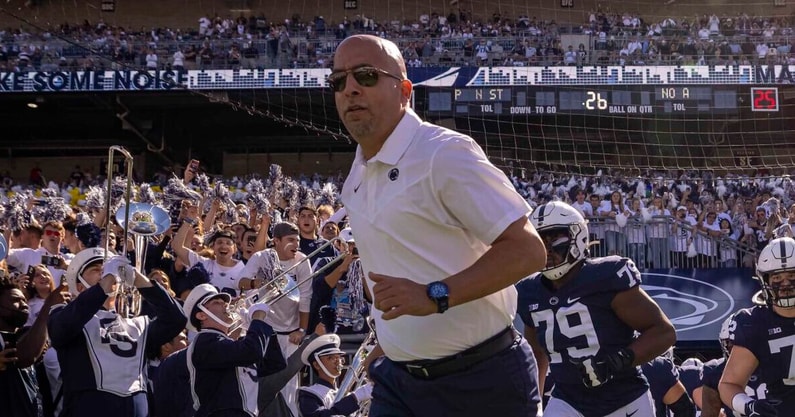 The Penn State Nittany Lions are favored in Las Vegas by less than a touchdown in their season opener versus the Purdue Boilermakers on Thursday. While they are the road visitors, Penn State has a few more reasons to fear a potential upset in game one.
ESPN reporters Rece Davis and Pete Thamel shared their thoughts and predictions for the game on the College GameDay podcast.
"A salty little game here," Thamel began. "You know, Vegas is good at their job because I don't have a ton of conviction. I think Purdue can win the game. I think the atmosphere, it's not quite sold out I was told yesterday, but it's pretty well juiced up there. Aidan O'Connell and the two Iowa transfers at receiver.
CLICK HERE to subscribe for FREE to the On3 YouTube channel
"My favorite part of this matchup, Rece, is you have probably the biggest gunslinging play-caller on offense in Jeff Brohm going up against probably the biggest gunslinging defensive play-caller in Manny Diaz. There are going to be turnovers, there will be defensive touchdowns, and there will also be giant busts because of the risks that are taken."
Thamel went on to predict Penn State to win despite a serious threat from Purdue. However, Rece Davis took Purdue and the points.
"I'm taking Penn State to win and cover," Thamel said. "With Sean Clifford back, with the improved offensive line, with some of the talent they have at receiver and some of the young tailbacks… I think they're pound-for-pound much better talent-wise… When in doubt pick the team with more talent."
Heading into the season, the Nittany Lions received the fourth-most votes from AP voters out of the teams not ranked in the top 25.
ESPN predicts season record for every Big Ten team
Big Ten East predictions
1. Ohio State 11-1 overall record, 8-1 conference record
2. Michigan 10-2 overall, 7-2 conference
3. Penn State 9-3 overall, 6-3 conference
4. Michigan State 8-4 overall, 5-4 conference
5. Maryland 7-5 overall, 4-5 conference
6. Rutgers 4-8 overall, 2-7 conference
7. Indiana 4-8 overall, 2-7 conference
Big Ten West predictions
1. Wisconsin 10-2 overall record, 7-2 conference record
2. Minnesota 9-3 overall, 6-3 conference
3. Iowa 8-4 overall, 5-4 conference
4. Purdue 7-5 overall, 4-5 conference
5. Nebraska 6-6 overall, 3-6 conference
6. Illinois 5-7 overall, 2-7 conference
7. Northwestern 5-7 overall, 2-7 conference