James Franklin explains what was unique about Michigan in 2021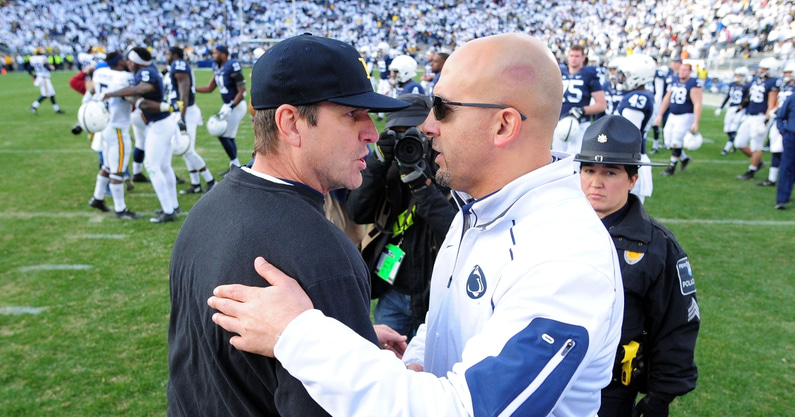 The Michigan Wolverines got over the hump in 2021, beating Ohio State, winning the Big Ten, and making the College Football Playoff. On their way there, they beat Penn State. James Franklin explained what made Michigan different in 2021.
"We've had great games year-in and year-out against Michigan," James Franklin said. "A lot of them have been one-possession games. Obviously going there is a tough place to play and coming to our place is a tough place to play."
"But obviously they were able to do it consistently and I think that's the challenge in our conference, right? Especially in our side of the conference, in our division. You've got to be able to do it week-in and week-out at a consistent level."
"I think if you had to say what was the biggest differentiator? The defensive ends. When you have guys like that change the gameplan significantly, when you have two guys that can rush the passer and be disruptive like they were able to be all season long, that was one of many but probably the thing that stood out to me the most," James Franklin concluded.
James Franklin expects Penn State's pass rushers to improve
If James Franklin thinks that edge rushers were the key to Michigan's success in 2021, then he has to be excited about Penn State's odds in 2022. That's because he's seen the Nittany Lions' edge rushers show remarkable growth from 2021 to 2022.
"I don't know if I would describe it the way you did, but when you have three defensive ends that make All-Conference over the last two years and you lose that type of production, obviously through recruiting and through development, you need to replace that production," James Franklin said. "So every year you're going to have that, and whether it's players in your program that are moving up into more prominent roles or whether that is through recruiting and now, which we don't live in this area a lot, but the transfer portal is able to solve some problems as well."