James Franklin updates injuries to Sean Clifford, PJ Mustipher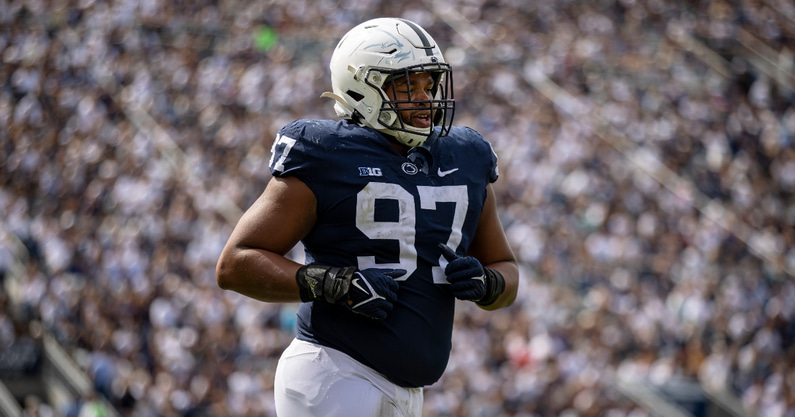 Penn State defensive tackle PJ Mustipher has been ruled out for the 2021-2022 college football season, according to Penn State head coach James Franklin. The multi-year starter and centerpiece of the Nittany Lions defensive line left the game against Iowa on the first drive due to an injury and did not return.
He also said nothing specific on quarterback Sean Clifford with regards to his injury. Clifford was injured on a hit by Iowa linebacker Jack Campbell last Saturday in the 2nd quarter. Coming out of the locker room in the second half, Clifford was ruled out for the rest of the game and was not dressed.
"Nothing has been decided or determined," Franklin said of Clifford. "He's doing everything he possibly can to get back as soon as he possibly can and go from there. What he's dealing with is not uncommon with the QB position."
Once Clifford went out against Iowa
Backup quarterback Ta'Quan Roberson entered the game for the injured Clifford, who struggled against Iowa. Clifford threw two interceptions, then ran in a score for six for the Nittany Lions. Roberson didn't do much better in his place. He only completed 7 of his 21 pass attempts for 34 passing yards, while tossing two interceptions and no touchdown passes.
Iowa cut the Penn State lead to 17-10 at halftime, but the Nittany Lions tacked on a field goal in the third quarter to make it 20-10.
In the first half, Clifford completed 15 of his 25 pass attempts for 146 passing yards, while tossing in two interceptions and no touchdown passes.
Coming into the game, it was billed as one of the most anticipated bouts of the 2021 college football season. Both teams were undefeated and ranked inside the top 5.
In 2019, Clifford threw for 2,654 yards, while tossing in 23 touchdowns and seven interceptions. In 2020, he took a bit of a step back, throwing for 1,883 yards, while tossing in 16 touchdowns and nine interceptions.
So far in the 2021 season, he's thrown for over 1,300 passing yards, while tossing in 11 touchdown passes and five interceptions. Iowa forced two of Clifford's interceptions last Saturday.
Coming out of high school, he was rated as a four-star prospect and attended St. Xavier (Cincinnati, Ohio). The 6-foot-2 quarterback was named an Elite 11 finalist in 2016.